JD.com Develops China's First Unmanned Automated Delivery Vans
Chinese second-largest e-commerce giant, Jingdong (JD.com) has officially announced that it has entered partnerships with two of China's automakers  SAIC Maxus and Dongfeng Motor Corporation to develop what would be the country's first unmanned delivery vans. The JD-powered initiative saw both automakers producing two models of the automatic van which uses electricity as its source of power.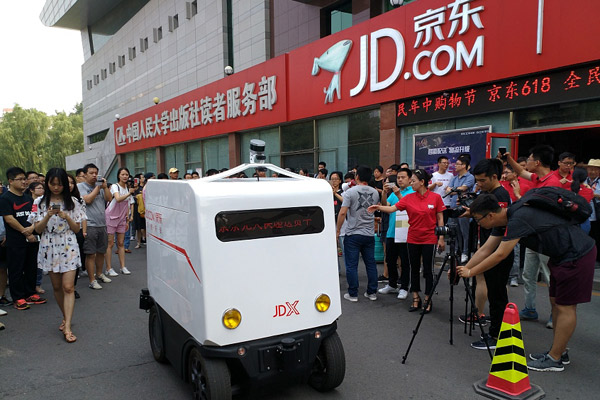 JD also hinted that the unmanned delivery vans are intended to be used for delivery of goods from its distribution centres across China to delivery points. The model developed by SAIC Maxus is touted as capable of sensing obstacles 150 meters away and can plan its route using its radar system, multiple sensors and GPS system. The van is said to have undergone several successful tests which cover aspects such as automatic route planning, overtaking, obstacle avoidance and self-parking functions. However, the project is still in the R&D stage and is still a long way from being rolled out as a full-time. Before its full rollout, the project must undergo multiple tests and be licensed before they hit the road full-time.
Read More: JD.com Tests Motorized Robot For Deliveries in Universities
This isn't the first time Jingdong is making efforts towards automating its delivery system. The e-retail giant had successfully utilised drones to deliver online purchases to rural shoppers in Jiangsu province. It also reportedly used robots and driverless cars for deliveries during the June 18 shopping festival this year, all part of the test running process for the technology. The new initiative will no doubt help reduce costs and enhance the efficiency of delivery.
(source)