Google Announces Google Home Mini and Google Home Max
by Habeeb Onawole Oct 4, 2017 7:07 pm0
The Google event kicked off with the usual speech by the CEO and a bunch of stuffs Google has been working on. For the product launch, the first two products announced are the Google Home Mini and the Google Home Max.
We already knew about the Home Mini before today. We had seen images and also learnt about the price, however there was the mention of another Home product, the Google Home Max.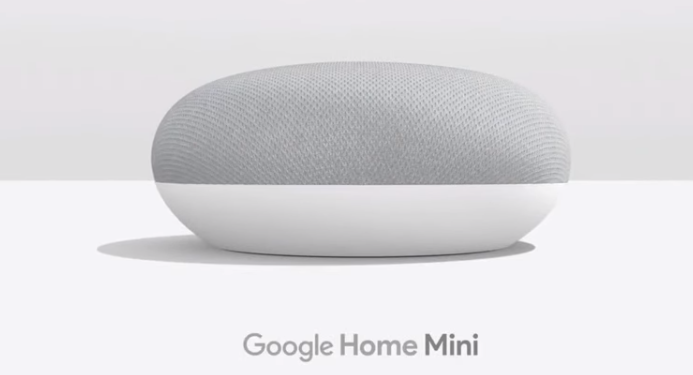 Google Home Mini
The Google Home Mini is the perfect device for those who just want to introduce the assistant into their home without shelling out so much. It is also a good addition for those who already own the Google Home but need extra smart speakers in the home.
The Google Home Mini works just like the regular Home. Ask it questions, control the smart devices in your home, set reminders and do a whole bunch of other stuffs.
The Home Mini is covered with fabric and looks like its made for just talking to, but you can actually tap on it for a number of functions. Tap the center to play/pause, tap the left and right edges to reduce or increase volume, and long press to activate assistant.
The Home Mini has a 40mm driver for 360 sound and far-field voice recognition. It has dual band WiFi support and Bluetooth. Sadly, the Google Home Mini still needs to be connected to a power outlet. There is a micro USB port at the back and a 5V/1.8A in the box.
The Google Home Mini works with both Android and iOS and will retail for $49. It comes in Chalk, Charcoal, and Coral. You can purchase it now but shipping won't start till October 18.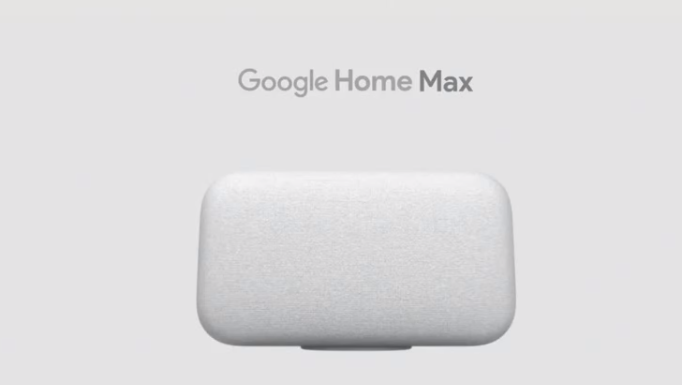 Google Home Max
The Google Home Max can best be described as a woofer with an AI assistant. Its main function is to serve as your primary music playing device before anything else.
The Home Max has two 4.5-inch woofers for deep bass and two 0.7-inch custom tweeters for highs. They are covered with an "acoustically transparent fabric" and housed in a polycarbonate body. There top of the device is a touch surface that serves a bunch of functions such as volume adjustment, assistant activation, playback control, and to turn the mic off. Just like the Home Mini, there are four LEDs that light up when its active. The Home Max is big – measuring 13.2-inches wide and standing 7.4-inches tall. It's also heavy at 5.3kg (11.7lbs).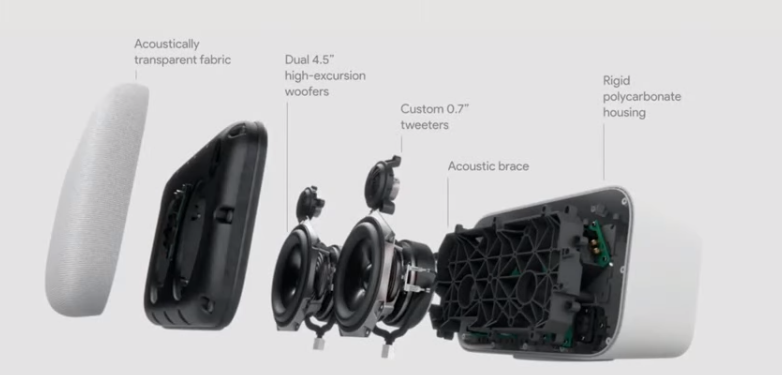 One cool feature that makes the Google Home Max stand out is Smart Sound. What it does is to adjust the way you listen to music by adapting to its environment. So no matter where you place it, you are getting the best audio experience. Change the position of the speaker while its playing and all it needs is a few seconds to adjust the audio experience. Is the washing machine or blender on while its playing? It will automatically increase the volume.
You can ask it to play songs from YouTube Music, Spotify, Pandora, and Google Play Music. You can also play songs over Bluetooth or just connect another device via the aux jack. There is an AC power outlet at the back and even as switch that turns off the assistant, so it doesn't come on when you say "Hey Google".
The Google Home Max can also perform all the functions of the other Home devices but to be honest, if you are not a music lover, the Max isn't for you.
READ MORE: Google Likely to Announce, "Made for Google" Certification Program for Third Party Accessories for Pixel 2, 2 XL
Google has slammed a $399 price tag on the Google Home Max. That price includes a 12-year ad-free subscription to YouTube Music. It will come in Charcoal and Chalk and will be available in December. Right now, you can go ahead and join the waiting list and Google will notify you when its available.