Meitu M8s Specs Announced: Dragon Ball Z, Sailor Moon, Doraemon and Hello Kitty Special Editions Launched
by Habeeb Onawole Oct 10, 2017 10:52 am0
About a month ago, selfie app maker and phone manufacturer Meitu released a new phone – the Meitu M8s. However, the specification and price weren't disclosed. Today, those details have been announced alongside limited edition variants of the phone.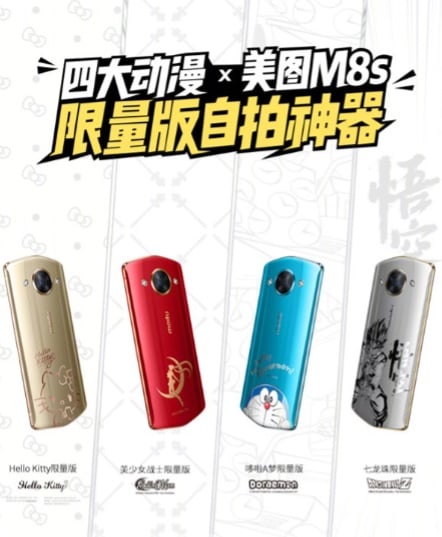 Meitu M8s Specs
The Meitu M8s has a 5.2-inch FHD AMOLED display. It is powered by MediaTek's MT6797X (Helio X27) processor and has 4GB of RAM.
The Meitu M8s is proof of the company's other business – selfie apps. The phone has dual front facing cameras with dual pixel technology. One of the sensors is the Sony IMX362 with support for OIS and PDAF. The phone can take portrait photos and even record videos with bokeh effects.
There is no mention of the specs of the rear camera but since this is an upgraded version of the original M8, we presume the rear camera is still a 21MP sensor with two LED flash flanking it on both sides.
The battery has been slightly bumped up to 3,100mAh with support for fast charging. There is a Hi-Fi audio chip in the phone and a fingerprint scanner.
Meitu M8s Limited Editions
When Meitu released the M8 earlier this year, it announced two limited edition models – Sailor Moon and Hello Kitty. For the M8s, it has added Dragon Ball Z and Doraemon limited editions. All four versions will come with 128GB of storage while the standard edition will have 64GB.
The Meitu M8s Hello Kitty Limited Edition is gold and has designs of the famous cat engraved on it. It will come with a customized  selfie stick with a remote, collection certificate and a customized UI. Pre-orders will begin on 16th of October at 12:00 noon and it will go on sale on the 26th of October.
The Sailor Moon Limited Edition is red and comes with the same gifts mentioned above and a customized UI too. Pre-orders will be live on 3rd of November and sales begin on the 11th.
The Doraemon Limited Edition wears a blue coat and has the robotic cat and some familiar images from the manga (and show). Instead of a selfie stick, owners will get a customized power bank in addition to a custom selfie remote.
Dragon Ball Z fans will have to settle for a silver colored phone but at least you have Goku etched on it. There is a themed-power bank and selfie remote too. Both the Doraemon and Dragon Ball Z Limited edition will be available in December.
READ MORE: Meitu M8 and Upgraded Meitu T8 Official with Artificial Intelligence
Meitu M8s Price
All limited edition variants will sell for ¥3399 (~$516) while the standard edition available in green and pink with 64GB of storage will sell for ¥2999 (~$455). It will go on sale on the 26th of October.
(via)