Meitu M8 and Upgraded Meitu T8 Official with Artificial Intelligence
by Habeeb Onawole May 9, 2017 12:51 pm1
Meitu is a Chinese smartphone manufacturer whose name sounds like that of fellow manufacturer, Meizu. But the latter has been around longer than Meitu and apart from phones, Meitu also makes selfie apps. I am sure you remember the controversial selfie app that was in the news back in January.
Meitu has released two new smartphones today, the M8 and an upgraded Meitu T8.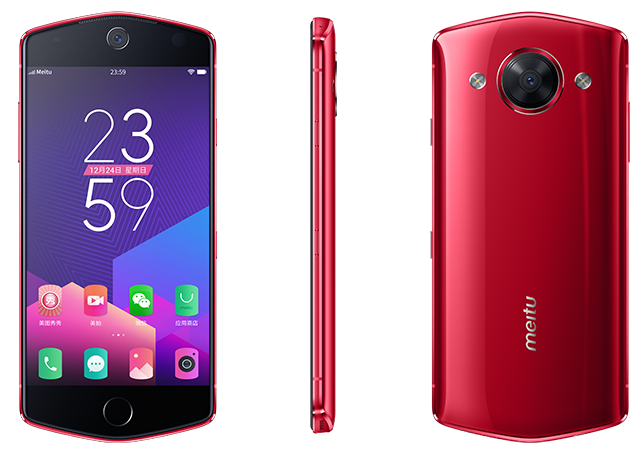 Meitu M8 Design
The Meitu M8 has the same hexagonal design as other Meitu phones. There is a large home button that greatly reminds us of the iPhone. The back and front are covered in glass and there is a middle frame that goes around it.
Meitu M8 Specs
Since Meitu is also a selfie app making company, you wouldn't be wrong to expect that their imaging technology will make its way to their phones. And the M8 doesn't disappoint. The front facing camera is a Sony IMX362 dual pixel self-timer camera. The camera has PDAF, OIS, and uses Meitu's 4th-gen dual imaging tchnology. The rear camera is a 21MP Sony IMX230 sensor with a LED flash flanking it on each side.
Meitu says the M8 also comes with a built-in artificial intelligence system that helps take better selfies. When taking selfies, most phones can only detect age, gender, and a few facial features. The Meitu M8 takes things further by detecting hair color, skin color, and a number of other features.
The Meitu M8 has a 5.2-inch FHD display, 4GB of RAM, and a Helio X20 processor. There is 64GB of built-in storage, a 3000mAh battery with 9V 2A fast charge support, a dedicated HiFi audio chip, and a USB Type-C port.The Meitu M8 runs MEIOS 3.6 based on Android Marshmallow.
Meitu M8 Price
The phone is available in blue, red, white and pink alongside a special Hello Kitty Edition, and a Sailor Moon Pretty Soldier Edition. There is also the option to personally customize your phone.
The standard variant is priced at ¥2599 (~$376), the Hello Kitty Special Edition is ¥2799 ($405), the customized edition will set you back ¥2899 (~$420), and the Pretty Soldier Limited Edition with just 10,000 units will sell for ¥2999 (~$435).
Registration for the Meitu M8 will begin today and sales will commence on Friday, May 12 at noon on the official website. It will then be available for purchase on Jingdong and Suning at 8 pm on the same day.
READ MORE: Meitu M6 Unboxing Pictures: Uniquely Shaped Phone With 21MP Front Shooter
Meitu T8 
The new Meitu T8 is an upgrade to the 3 months old Meitu T8. The only major difference is the upgraded AI assistant and software version on the phone. Meitu has also added a new Aurora Green color option to the already available five. The phone still retains its 5.2-inch AMOLED display, 4GB of RAM, 128GB of storage and Helio X20 processor. The rear camera is a 21MP Sony IMX338 senor and there is a 3580mAh battery with 9V 2A fast charging technology.
Meitu is not calling this a pro version, so chances are that whoever is buying the new Meitu T8 will be getting the newer variant at the same price as the first version.