After months of leaks, the Huawei Mate 10 and Mate 10 Pro flagship smartphones have been officially unveiled. Even though they sport a similar design and are powered by the same AI driven Kirin 970 chipset, the two smartphones are different in many ways.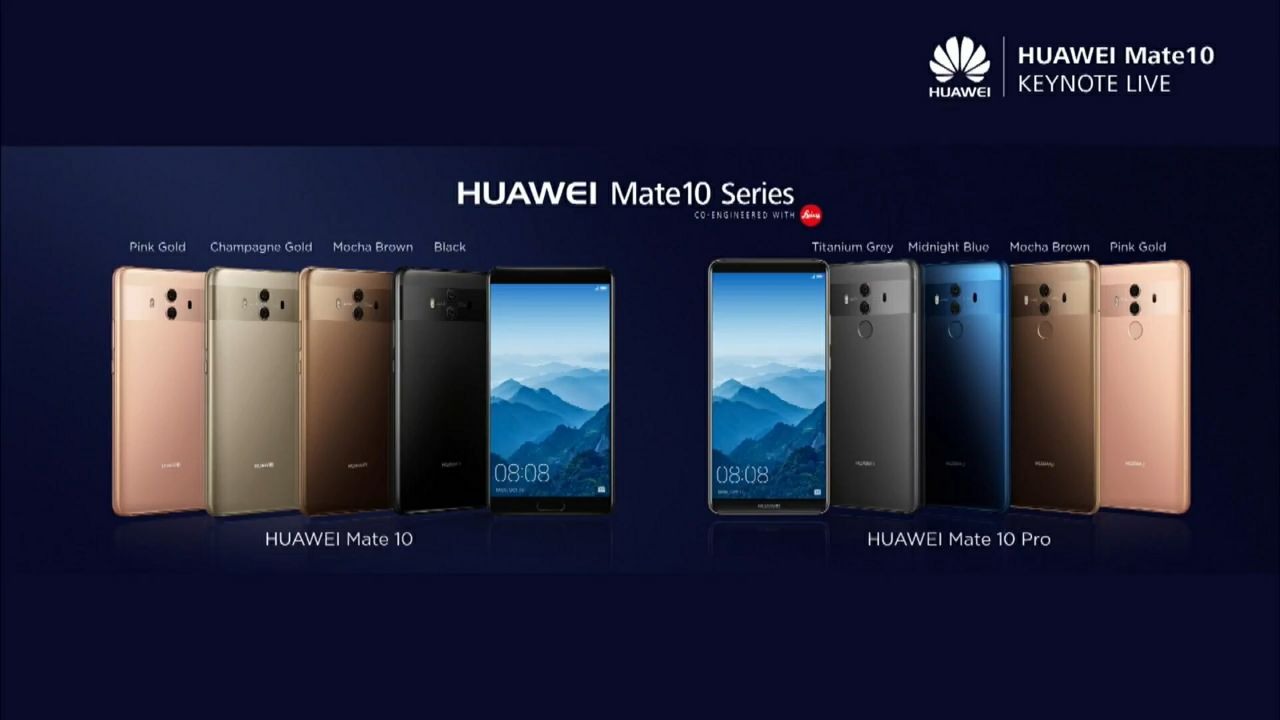 Design
The Mate 10 and 10 Pro are fitted with glass back that are curved at the edges and there is a textured pattern to highlight the dual rear cameras. However, the Mate 10 measures 150.5 x 77.8 x 8.2mm and it weighs 186 grams. The Mate 10 Pro is a longer device as it measures 154.2 x 74.5 x 7.9mm and its weight is 178 grams.
Among the two phones, only the Mate 10 Pro features a IP67 certified dust and water-resistant chassis. Also, there is no 3.5mm audio jack on Mate 10 Pro, but Huawei has made it available on Mate 10. The Mate 10 is available in color choices like Mocha Brown, Black, Champagne Gold and Pink Gold. On the other side, the Mate 10 Pro is available in colors like Midnight Blue, Titanium Gray, Mocha Brown and Pink Gold.
Display
The Huawei Mate 10 has a 5.9-inch LCD display that supports Quad HD resolution of 2,560 x 1,440 pixels. It supports a pixel count of 499 ppi and offers an aspect ratio of 16:9. The Mate 10 Pro has a 6-inch OLED display that produces FHD+ resolution of 1,080 x 2,160 pixels and delivers an aspect ratio of 18:9 along with a pixel density of 402 ppi.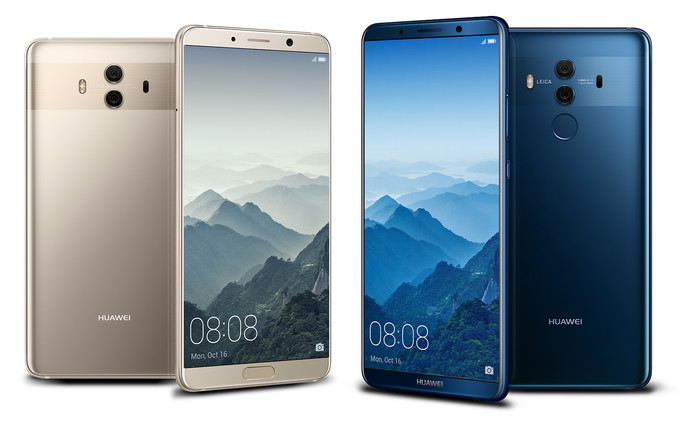 Read More: The Mate 10 Porsche Design is Huawei's Luxury Flagship for The Year
RAM and Storage
The Kirin 970 drives the Mate 10 and Mate 10 Pro, but the Mate 10 includes 4 GB of RAM and 64 GB of storage and the Mate 10 Pro has 6 GB of RAM along with 128 GB of storage. Another feature that sets the two devices apart is that the Mate 10 has a microSD card slot whereas the Mate 10 Pro does not feature it.
Pricing
The Huawei Mate 10 will be hitting the European markets in this month with a price tag of 699 euros (~$825). The Mate 10 Pro will be arriving in Europe in early November with a price tag of 799 euros (~$943).
Both the smartphones feature the same dual rear camera system that includes a 20-megapixel monochrome sensor and a 12-megapixel RGB sensor. They have the same 8-megapixel front-facing camera. These handsets are running on Android 8.0 Oreo that is customized with EMUI 8.0. Also, both the smartphones include 4,000mAh batteries.