Huawei Mate 10 Crosses 588,000 Pre-Orders On Its Official Website
Huawei announced its Huawei Mate 10 series of smartphones on October 16 in Germany and now the company is all set to launch the devices in China on October 20.
Currently, the device is available for pre-order through the company's own Huawei Mall (V Mall), a few selected third-party retailers and offline stores.
Since opening the pre-orders for the Mate 10 series on October 17, the company has already witnessed orders for more than 588,000 units on its own website. The number is expected to add another 100,000 units through third-party online retailers and offline stores.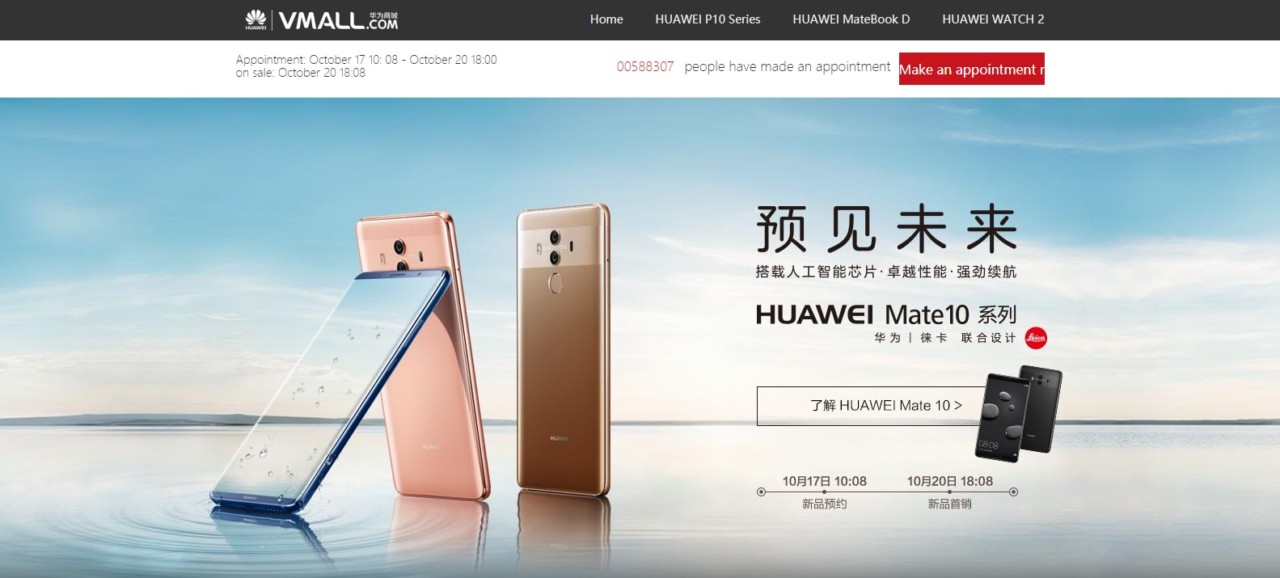 The phone's information on the official website suggests that the Mate 10 will be available in three versions — 4GB RAM + 32GB internal storage, 4GB RAM + 64GB internal storage, 6GB RAM + 128GB internal storage. and an international version with 4GB RAM and 64GB onboard storage.
The international version of the phone comes with just one configuration — 4GB of RAM and 64GB of onboard storage. There is a possibility that the other two variants are for China only. The Mate 10 series is powered by the company's own Kirin 970 octa-core processor.
As per the reports, the Huawei Mate 10 standard version with 4GB RAM and 32GB onboard storage will be available in only one color — Bright Black, while the other two version will be available in Bright Black, Champagne Gold, Mocha Brown and Cherry Gold colors.
Read More: Huawei's Mate 10 Series Feature Safety Certified SuperCharge Technology Enabled 4,000mAh Batteries
The pricing for the Mate 10 series is expected to start at around 3,299 Yuan. However, we'll have to wait for the official launch to know for sure. Along with Mate 10, Huawei will also launch Mate 10 Pro and Porsche Design in China on October 20.
In Europe, the Huawei Mate 10 costs €700, while the Pro and Porsche Edition models are priced at €800 and €1,400, respectively.
(Source)