OPPO R11S Adverts Seen Around The City Of Shenzhen
by Habeeb Onawole Oct 22, 2017 9:25 pm0
The OPPO R11 (and R11 Plus) was launched in June. Four months later, teasers of a successor have been seen gracing major landmarks in the city. The adverts tease a number of features of the successor called the OPPO R11S.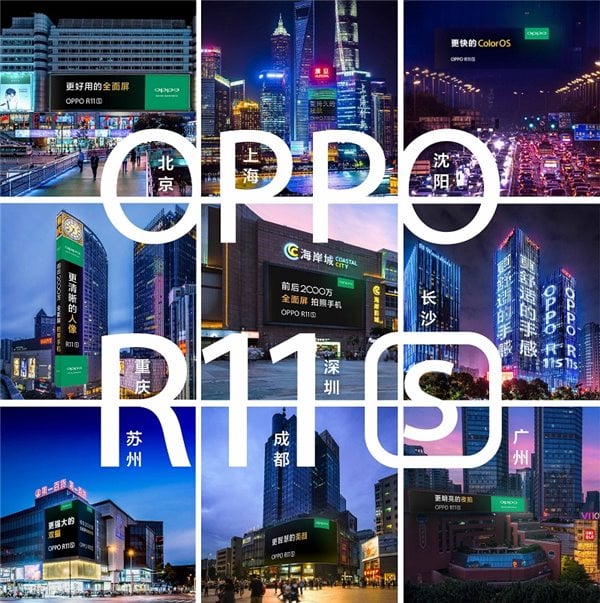 The OPPO R11S adverts can be seen at nine different locations around the city and tease features that roughly translate to "a better use of full screen", "faster ColorOS", " 20MP dual cameras", "clearer portrait" and "better night pictures" to name a few.
Four variants of the OPPO R11S were seen on the Chinese Compulsory Certification website last week. The certification site mentioned that it will have 5V 4A fast charging which is the proprietary VOOC fast charging technology.
The R11S is expected to launch with a full-screen display with an 18:9 aspect ratio. It will still have dual rear cameras but the fingerprint scanner will now keep the senors company at the back. The phone will be powered by the Snapdragon 660 processor and will come with 4GB of RAM and 64GB of storage.
The R11S will also have a bigger variant that will launch as the OPPO R11 Plus. It will have 6GB of RAM and its battery will be bumped up from the 3,200mAh of the R11S to 4,000mAh.
READ MORE: New Leak Reveals OPPO F5 Will Have 12MP Dual Front Facing Cameras
The official date for the launch has not been revealed yet but it should be close seeing as OPPO is already teasing the device. OPPO also has another full-screen smartphone, the F5 which is set to launch in the Philippines on the 26th of October.
(Source)