Motorola Makes A Strong Return To The Top Flight, Ranks Among Top 5 in The U.S
Lenovo's brand Moto has made an important return to the top flight in the U.S with a strong showing in Q3 2017, a research analysis by Counterpoint Research has shown. Counterpoint also disclosed that the Moto brand almost doubled its annual volumes and market share and was the fastest growing brand among those analyzed. The brand made it back to the top 5 brands in the U.S after a long hiatus.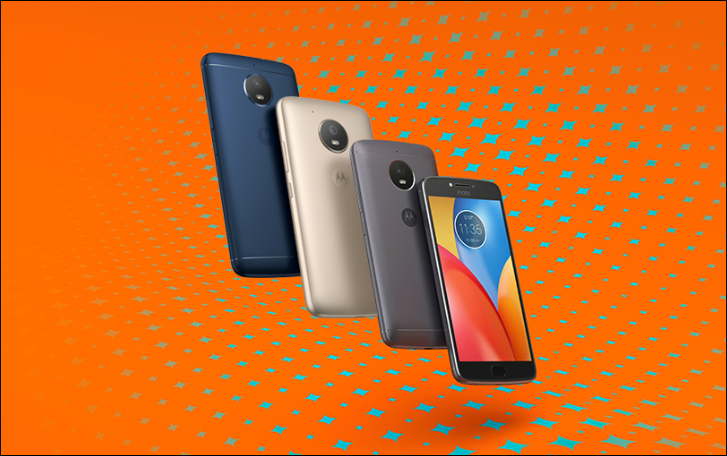 Apart from Motorola, fellow Chinese brand ZTE also made its way into the top 5 spot in terms of market shares in the  U.S. However, the biggest winner is Apple who continued to occupy the number one spot with the largest share of the market but year-on-year growth remained flat at 33.2%, same with last year. Samsung dropped from 25.4% last year to 23.2% market share in the third quarter of this year but still remains the second largest smartphone maker in the U.S.
LG saw its market share grow from 13.3% to 17.6% YoY while  ZTE grew from 8.7% to 11.5% in Q3 2017 to occupy the fourth spot. Motorola made its entrance into the top 5 with a 5.1% share in Q3, up from 2.9%. Counterpoint research posits that Motorola's focus on affordable devices for prepaid/ unlocked market and its decision to break out from Verizon's shadow helped drive growth during the quarter. Despite the gains recorded by Motorola, Apple, LG and others, the US smartphone shipments remained flat during the third quarter.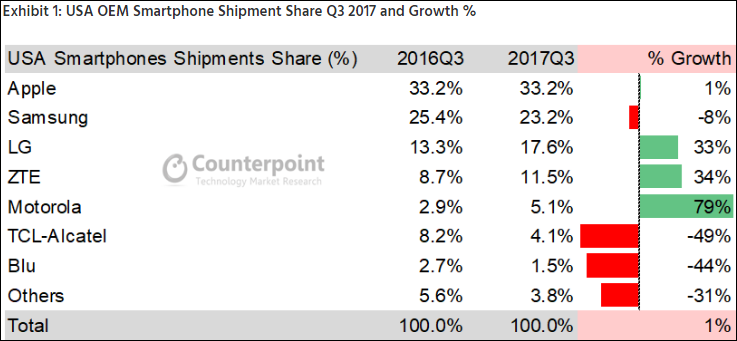 Read More: Motorola's New Moto Mod Is A Smart Speaker With Amazon Alexa
The research also showed Verizon remained the largest smartphone sales channel, followed by T-Mobile, AT&T, and Sprint. But Motorola benefited in terms of visibility with presence across all four of the major carriers with its Moto Z2 Force in the flagship segment. Counterpoint also disclosed that the Moto E series was actually the key volume driver for Motorola during the quarter across prepaid and open channels.
(source)