2017 is definitely the year of bezel-less phones. Xiaomi Mi Mix 2 started the trend at the end of 2016, and now most of the best flagships in the market have a borderless display. Oppo R11s Plus vs Huawei Mate 10 are the two major high-end phones released by the Chinese companies this year. With this comparison, we want to explain to you which is best among the two, and we will try to help you decide which one fits your need in the most appropriate way.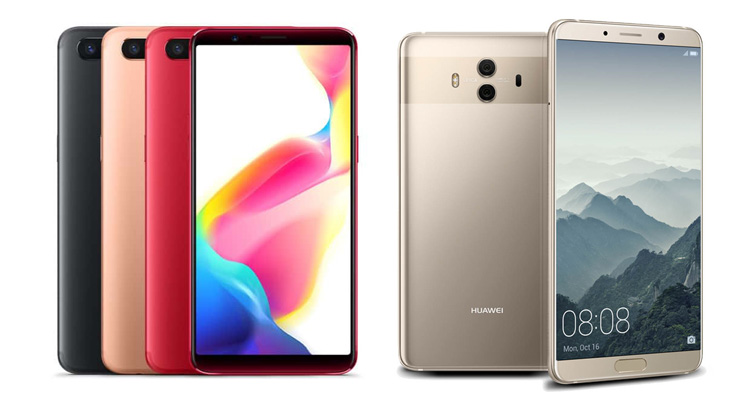 Design and Build Quality
Both these devices have a very futuristic design thanks to their borderless display and premium materials used for their bodies.
It is very hard to notice antenna bands on these phones at first glance, which makes them even more attractive. Oppo R11s Plus measures 164.8 x 80.2 x 7.3 mm and it has a weight of 182 g. Huawei Mate 10 has a size of 150.2 x 77.8 x 8.2 mm and a weight of 186 g. Both are big phablets, so you cannot expect compact ergonomics. Oppo R11s Plus is slightly bigger so its opponent is more ergonomic, but on the other hand, it has a bigger screen and is thinner.
In both cases, there are metal bodies and the Gorilla Glass protection by Corning for the display (Gorilla Glass 5 for R11s Plus and an unspecified version for the Mate 10). While Oppo R11s Plus does not have any certification for dust and water-resistance, Huawei Mate 10 is IP53 certified, so it is splashproof and dust-resistant (but not completely as the highest grade is IP6X). For its original look and a slightly higher attention to detail and build quality, the Huawei Mate 10 wins in terms of design, according to us.
Oppo R11s Plus vs Huawei Mate 10: Display
There is no challenge between the displays of these phones, as they both have outstanding screens.
Oppo R11s Plus has a huge 6.43-inch display that shows images at a Full HD+ resolution of 1080 x 2160 pixels with AMOLED technology. It has an 80.7% screen-to-body ratio thanks to the 18:9 aspect ratio, and a pixel density of about 376 ppi. Huawei Mate 10 has a classic 16:9 display with IPS LCD technology and a size of 5.9 inches. But its resolution and pixel density are outstanding: it has a Quad HD resolution of 1440 x 2560 pixels and a density of about 499 ppi. The screen to body ratio is superior to R11S Plus' 80 percent here as well (about 81.6%) but there is still some space for a front Home key integrating a fingerprint reader.
While Oppo R11s Plus has more vivid colors and deeper blacks due to the AMOLED technology, Huawei Mate 10 has an outstanding level of detail. Further, the Mate 10 has a better color accuracy thanks to HDR10 technology, that is also supported in important apps like YouTube and Netflix (coming soon). It should also be much more legible in sunlight thanks to its peak brightness of 730 nits. Even without the 18:9 aspect ratio, Huawei Mate 10 has a display which is definitely better than the one of its opponent.
Oppo R11s Plus vs Huawei Mate 10: Hardware
Oppo R11s Plus AnTuTu benchmark score: 104.000 (appr.)
Huawei Mate 10 AnTuTu benchmark score: 176.000 (appr.)
The difference between these phones is big in terms of hardware as well.
Oppo R11s Plus has an octa-core Snapdragon 660 SoC running at a max frequency of 2.2 GHz, composed of Kryo custom cores by Qualcomm. It is the best midrange processor by Qualcomm, but it stays a mid-range SoC. Huawei Mate 10 has the best processor ever made by Huawei, an octa-core Kirin 970 with a frequency of 2.4 GHz (which also supports AI).
The RAM is 6 GB on Oppo R11s Plus and 4 GB on Huawei Mate 10, while the internal storage is 64 GB in both cases. The memory is expandable, but they both have a hybrid micro SD slot, so you would have to say goodbye to the secondary SIM slot. The capacity supported goes up to 256 GB. You can charge Oppo R11s Plus through a micro USB 2.0 port and Huawei Mate 10 through a USB-C slot. They both have Wi-Fi 802.11 a/b/g/n/ac and Bluetooth 4.2 connectivity standards.
Both the handsets can deliver incredible performances, but Kirin 970 is faster and smoother in every situation, gaming included. However, Oppo R11s Plus can manage the multi-tasking experience better thanks to a higher amount of RAM and a slightly bigger display that is useful for the split screen feature. But we believe Huawei Mate 10 is better in performance here.
Oppo R11s Plus vs Huawei Mate 10: Software
Even though they have great performances, the user interface of these phones is nowhere near to stock Android and it has been highly customized by the company. But the software for these phones adds many important features as well. Oppo R11s Plus has been launched with ColorOS 3.2, based on Android 7.1.1 Nougat. Among the features, there is an advanced split screen mode and facial unlock with artificial intelligence which is able to recognize the user and unlock the phone in just 0.08 seconds. AI plays an important role in selfies as well, as there is a beautification mode based on AI. It allows to highlight eyes, cheekbones, nose or jawline in selfies, it can brighten eyes and enable a Portrait Mode with an advanced artificial blur.
Huawei Mate 10 is powered by EMUI 8.0 based on Android 8.0 Oreo, the latest version of the OS by Google. The Kirin 970 has a dedicated Neural Processing Unit, and this means that AI features are even more advanced than the one of its opponent, with machine learning supported as well. You can use AI to translate languages and for scene recognition from the camera. There is an advanced Always-On mode to see time, notifications and other info when the phone is on standby. You can also transform this device into a PC. It is possible to connect it to a DisplayPort monitor for a desktop-like use, with the user interface adapting to the monitor, naturally. These are only some of the many innovative features available. Clearly, the Huawei Mate 10 has a software which is much more advanced.
Oppo R11s Plus vs Huawei Mate 10: Camera
Oppo R11s Plus and Huawei Mate 10 can be considered among the top camera phones in the market, even though the latter is in a league of its own.
Oppo R11s Plus has a dual camera setup with resolutions of 16 + 20 MP with a f/1.7 aperture (both sensors), 1.0 µm pixel size, and  Phase Detection autofocus. The selfie cam has a 16 MP resolution (f/2.0) sensor and AI-based features that we described above. Huawei Mate 10 has a dual camera with a resolution of 20 + 12 MP, it has Leica lens, optical stabilization and it can do 2x optical zoom. The aperture is f/1.6, the lowest (largest) ever seen on a smartphone. The selfie camera has an 8 MP resolution with a f/2.0 aperture.
The flagship by Oppo shoot great photos from the main camera, with a high level of detail, but we do not think that its primary camera will have the same performance as the Mate 10. The flagship by Huawei manages to shoot photos with outstanding detail and good color accuracy, and even in low-light conditions, it is great. On the other hand, the selfie camera is much better on Oppo R11s Plus. But, even if the secondary camera is more innovative besides offering incredible performances, we choose Huawei Mate 10 as the winner of the camera comparison, because it offers photos which are way better, in every lighting condition.
Oppo R11s Plus vs Huawei Mate 10: Battery
The battery life is the main problem of most flagships, but not in this case.
The battery of Oppo R11s Plus has a huge capacity of 4000 mAh and it also supports fast charging thanks to VOOC Flash Charge technology (5V / 4A). Huawei Mate 10 has a battery with a 4000 mAh capacity as well, and it supports fast charging: you can reach 58% with just 30 minutes of charging.
If we only talk about flagships, these are the phones from the last generation which have the biggest battery capacity and also the longest battery life. Huawei Mate 10 can last one day and a half with a normal use (making some calls, listening to music, navigating the internet and some video streaming). If we set a high brightness (not the max) with video playback it can last about 10 hours, which is incredible. Regarding Oppo R11s Plus, there are still not enough battery tests to evaluate its battery life perfectly, but we believe it may last even more than Mate 10. Its display has a Full HD+, and this means a lower power consumption. Further, the Snapdragon 660 is optimized very well in terms of energy consumption.
Oppo R11s Plus vs Huawei Mate 10: Price
Prices are very different, and in both cases, we are talking about low prices if we compare these phones with the most famous devices on the market. The main problem of Oppo R11s Plus is the availability: Oppo is still not a worldwide company, so the phone will be sold only in Asia. Anyways, its listing price in China is about 580 euros ($685). Huawei Mate 10 instead is going to be available in many selected markets, and its listing price in many regions goes around 700 euros ($824). Oppo R11s Plus cheaper without any doubt, but Huawei Mate 10 has a great value for money.
Oppo R11s Plus vs Huawei Mate 10: Winner
It is not hard to establish a winner in this comparison. We are talking about phones for slightly different targets, but there is no doubt about the fact that Huawei Mate 10 is a superior phone. Oppo R11s Plus has just a more innovative camera department and, maybe, a slightly longer battery life. But Huawei Mate 10 has a better design, display, a higher level of performances and more features on the software side. Anyways, note that, at this price, the Oppo R11s Plus is much cheaper to buy.
Huawei Mate 10: PRO and CONS
PRO:
Outstanding display quality
Flagship performances
AI and innovative features
Great camera
Long battery life
CONS:
Price is not so low
Average selfie camera
Oppo R11s Plus
PRO:
Innovative, complete and high-level camera department
Comfortable display
6 GB RAM
Monster battery
Convenient price
CONS:
So, which one would you pick?