Samsung Galaxy S9 Likely to Launch Ahead of MWC 2018 with Anti-Glare Camera, Wireless AKG Earbuds
by Anvinraj Valiyathara Nov 15, 2017 12:00 pm0
The mass production of the Galaxy S9 and Galaxy S9+ flagship smartphones will reportedly begin from next month. Fresh suggests that Samsung may announce the Galaxy S9 early in next year and it will come with some new features like anti-glare camera and wireless AKG headset.
Galaxy S9 Launch Date
According to the tweet shared by a leakster, the Galaxy S9 and S9+ may launch early in 2018. Previous reports have revealed that the Galaxy S9 and S9+ may debut a day ahead of the upcoming Mobile World Congress (MWC) 2018 that will be held between Feb. 26 to March 2. Samsung has used this strategy in 2014 and 2015 to debut the Galaxy S6 and Galaxy S7 respectively.
Yes you'll see an earlier announcement of #GalaxyS9 with dual cam,"faster"and with some new"tricks"(they say) ala #iPhoneX 🧙‍♂️ pic.twitter.com/T0ZJlhS0L4

— Ricciolo (@Ricciolo1) November 13, 2017
However, the arrival of the Galaxy S8 duo was delayed this year, probably because of the Galaxy Note 7 debacle. Hence, the Galaxy S9 and S9+ are speculated to launch on Feb. 25 in 2018. Through the above tweet, the leakster also claimed that the Galaxy S9 duo would be equipped with dual cameras.
He also claims that the Galaxy S9 would be borrowing some "tricks" from the iPhone X. However, it is known as to what could be the source hinting too. However, it is likely that just as the Apple had introduced Face ID feature on the iPhone X, Samsung to may add a robust facial scanning feature on the Galaxy S9.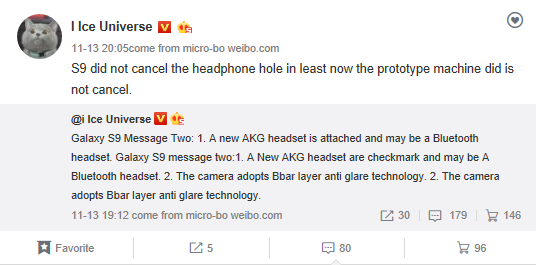 Read More: Alleged Samsung Galaxy S9+ Geekbench Listing Reveals Exynos 9810, 4 GB RAM
According to another leakster who has been consistently spilling accurate information on upcoming flagship phones from Samsung, the Galaxy S9 would be arriving with a new AKG headset. The South Korean company is already offering AKG tuned headset with Galaxy S8 and Galaxy Note 8. However, the tipster claims that the company may provide Galaxy S9 users with Bluetooth-enabled AKG headset.
Some may assume that the Galaxy S9 may not feature standard audio jack since the company is speculated to provide users with wireless AKG headsets. However, the leakster has emphasized that the 3.5mm headphone will not be axed from the Galaxy S9 and S9+.
Recent reports have revealed that the Galaxy S9 duo are rumored to arrive with vertically stacked dual rear cameras. The leakster claims that the camera of the S9 "uses anti-glare BBAR layer ghost technology." BBAR could possibly mean Broadband Anti-Reflection coating that resists glare and dual images.
There is no information on why the Galaxy S9's camera will feature BBAR coating because the cameras on Samsung's premium phones already feature anti-glare coatings. The new kind of coating that the leakster is referring could mean that the Galaxy S9 may feature some sort of improved anti-glare coating for the new set of dual rear cameras.