Samsung's Patent for Under-Display Fingerprint Sensor Approved; Could it be Available on Galaxy Note 9?
by Anvinraj Valiyathara Nov 29, 2017 7:54 am0
In April, Samsung had filed a patent for under-display fingerprint sensor with World Intellectual Property Organization (WIPO). Since the patent was approved yesterday, the rumor mill is speculating that the 2018 flagship phone from Samsung may feature the new fingerprint scanning technology.
According to the patent documents, there will be around 12 pressure points on the entire display of the smartphone for the scanning the fingerprint of the user. The below image shows that the fingerprint sensor is placed between the upper cover glass and touch sensor. Below the display panel is the pressure sensor.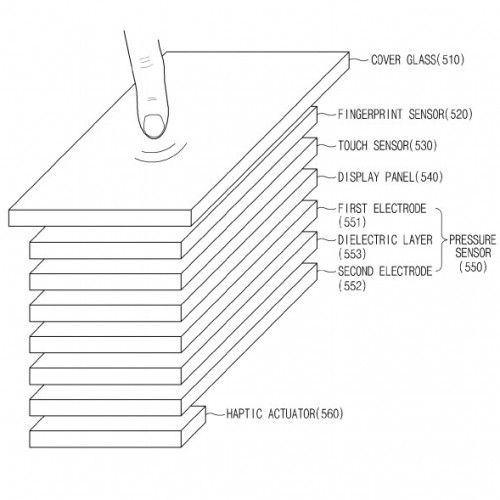 The new fingerprint scanning technology can be used to restrict access to apps, gallery, contacts, and messages. The patent documents state that if the fingerprint authentication is unsuccessful, the image gallery will show limited photos. It is only after successful authentication that the user will be able to see all the images in the gallery.
Read More: Samsung Galaxy S9, LG G7 Launching in January?
The same kind of security will be available for accessing messages and contacts. If the fingerprint authentication is unsuccessful, the user will not be able to see all the contacts and messages. An app like online banking that carries sensitive information of the user will show different screens, depending on who accesses the display.
Speculations are rife that the Samsung Galaxy S9 and Galaxy S9+ may get showcased behind closed doors at the upcoming Consumer Electronics Show (CES) in January 2018. Recent reports have revealed that the fingerprint scanner will be placed below the dual camera system on the back panel of the Galaxy S9 and S9+. Hence, the Galaxy S9 duo may not feature under-display fingerprint scanner.
Samsung is speculated to debut the Galaxy Note 9 in Q3 2018. It is speculated that it could be the first Samsung phone to feature under-display fingerprint reader.