Huawei Daydream VR Headset May Launch Soon as Images of its Controller Have Surfaced
by Anvinraj Valiyathara Nov 30, 2017 5:01 am0
In January, Google had confirmed that Huawei is working on its own Daydream Virtual Reality (VR) headset. However, since then, there has been no major update on the arrival of VR headset by Huawei. Now that the device has received FCC (Federal Communications Commission) certification in the U.S., the launch of the Huawei branded Daydream VR seems to be close at hand.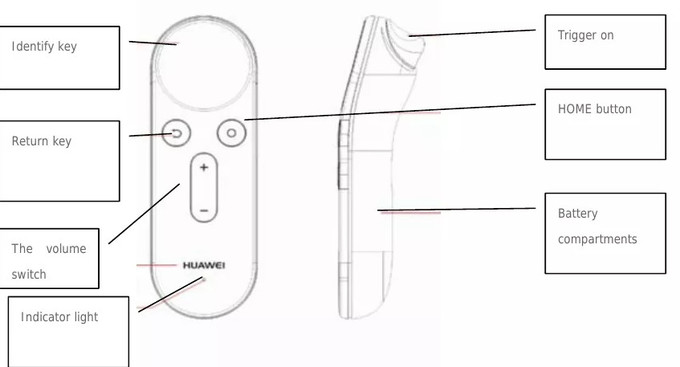 An item dubbed as "virtual reality handle" along with some images has surfaced in FCC documents. It seems to be a controller as it appears quite similar to the one that is available with Google's Daydream VR. Its top portion could be touch-sensitive and it seems to feature buttons for Home, Return and volume.
The FCC documents reveals that apart from controlling the sound, the volume buttons can be also used for answering or rejecting phone calls while using the VR headset. This suggests that the upcoming VR headset by Huawei is not a standalone device, but it will require users to put their smartphone inside the device and use its screen to show Daydream compatible content.
Read More: Huawei Demonstrates iPhone X-Like 3D Facial Recognition Feature, Animated Emoji
The FCC documents do not contain images of the VR headset. Even though Google had shown what the VR headset by Huawei would  look like earlier this year, the Chinese manufacturer may have modified the design of the device.
As of this writing, only Mate 9 and Mate 9 Porsche Design are certified as Daydream VR ready phones by Huawei. It is likely that the recently launched Mate 10 and Mate 10 Pro would also bag the certification. Since there are not many Daydream ready Huawei phones in the market, its upcoming VR headset will be compatible with phones from other brands.
The Consumer Electronics Show (CES) 2018 will be held in January 2018. It is likely that Huawei's Daydream VR headset may get showcased at CES 2018. If not, the company may make it official at the Mobile World Congress (MWC) 2018 event in February 2018.