Meizu's mBlu Headphone Leaks, Confirms Change Of Blue Charm Brand To mBlu
More evidence is emerging which indicates that Meizu is planning to rename its Blue Charm division to mBlu. The latest piece of evidence is the picture of a Meizu earphone having the word mBlu inscribed on it. Our focus isn't on the sleek design of the wired headphone, Meizu is known for great headsets but is no the name inscribed on the earpiece.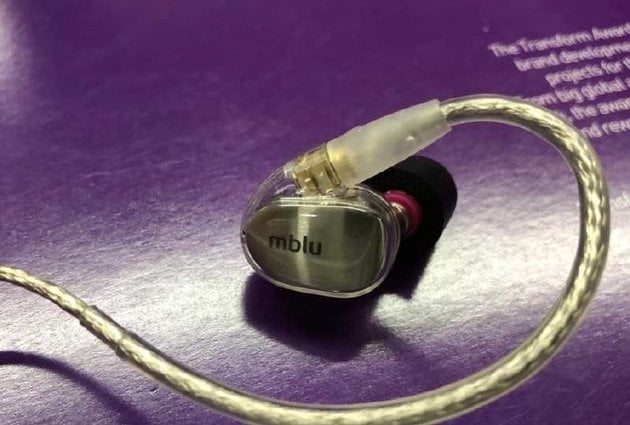 Meizu had reorganised the company into three divisions, Meizu, Blue Charm and Flyme divisions. The Meizu division oversees the flagship smartphones while the Blue Charm division handles mid-range and budget models and the Flyme division handles the software aspect. However, not long after the reorganisation, words filtered out that Charm Blue would soon be renamed. We had also seen a Meizu bezel-less smartphone named mBlu Zero. Meizu recently renamed its Charm Blue website as mBlu.com. So, this joins the trail of evidence gravitating towards a new, renamed mBlu brand.

Read Also: Meizu's Bezel-less mblue ZERO Spotted in New Render
We have also seen a new set of logos which suggest the company is experimenting with a new logo for the rebranded Blue Charm. There is no definite logo just yet. The company could unveil the rebranded name and logo this December as the Charm Blue brand clocks three years on December 18. Meizu could roll out the drums to unveil the new rebranded Charm Bue division with new products on that date. Data shows the Meizu Blue Charm brand has been a successful one with up to 45 million units of the Blue Charm smartphones shipped so far. The Blue Charm Note series has also seen up to 20 million shipments during this period. From all indications, the new mBlu brand will also include all other accessories like headphones manufactured by Meizu. However, we are yet to see an invitation to any event from Meizu.
(source)