Samsung Galaxy A8 (2018) Bluetooth SIG Filing Shows it is Renamed Edition of Galaxy A5 (2018)
by Anvinraj Valiyathara Dec 6, 2017 7:25 am0
Samsung has been releasing Galaxy A3, Galaxy A5 and Galaxy A7 smartphones each year since 2015. However, the rumor mill has revealed that Samsung won't be releasing Galaxy A3 in 2018. Moreover, it has also revealed that the phones that were going to launch as Galaxy A5 (2018) and Galaxy A7 (2018) will be arriving to the market as Galaxy A8 (2018) and Galaxy A8+ (2018). The Bluetooth SIG filing of Samsung SM-A530F smartphone has revealed that it would be launching as Galaxy A8 (2018). Also, these phones are enabled with support for Bluetooth 5.0.
Samsung had launched SM-A520F and SM-A720F smartphones as Galaxy A5 (2017) and Galaxy A8 (2017), respectively. Hence, initial reports had claimed that the rumored SM-520F and SM-A720F smartphones would be respectively debuting as Samsung Galaxy A5 (2018) and Galaxy A7 (2018). However, recent reports have revealed these phones would be actually arriving as Galaxy A8 and Galaxy A8+.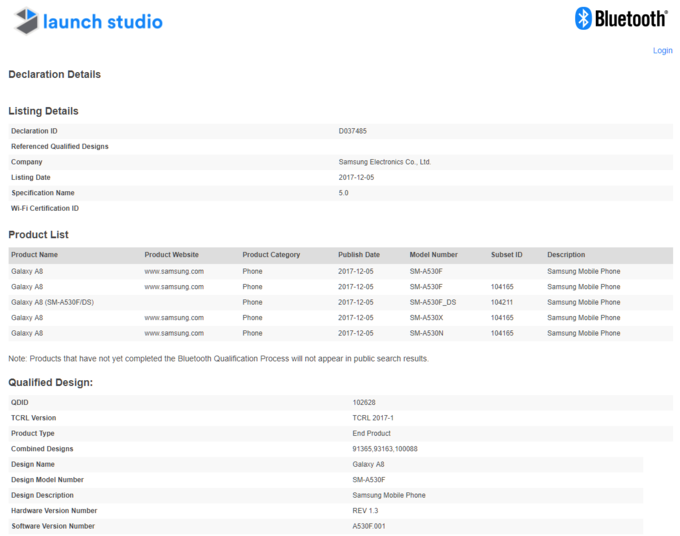 Read More: Samsung Has Begun Production of 512GB Flash Storage For Next Gen Phones
Earlier in this week, a leaked photo of the upcoming Galaxy A (2018) smartphone had appeared. It has revealed that the SM-A730F phone has Galaxy A8+ (2018) moniker. And now the Bluetooth SIG filing of SM-A530F shows that it will be introduced as Samsung Galaxy A8 (2018). It has also revealed that it will be available in dual-SIM edition apart from its single-SIM variant. The Galaxy A8+ (2018) is also speculated to arrive in single-SIM and dual-SIM versions.
As of this writing, there is no confirmation from Samsung on why it has decided to rename the SM-A530F and SM-A730F phones. It is speculated that Samsung wants to make the 2018 versions of Galaxy A8 and Galaxy A8+ as toned down versions of the Galaxy S8 and Galaxy S8+. Like the S8 duo, the A8 and A8+ phones are expected to come with features like Infinity Display (18:9 aspect ratio), rear-mounted fingerprint scanner, and Bixby button. These phones are rumored to be powered by Exynos 7885 chipset, but some markets may receive their Snapdragon 660 chipset variant.