TCL has just showcased new 4K Roku TVs at CES 2018, which might be among the most interesting Chinese TVs of this year. The company released the P-Series in 2017 and they were simply great TVs in terms of quality-price ratio. Many people considered them the best TVs under 1,000 dollars, and they provided an excellent viewing experience thanks to their full-array local dimming, Dolby Vision, and HDR10 technologies. The only disadvantages of the P-Series were the size (the TVs have been launched only in a 55 inches version) and the plastic materials which were not the best.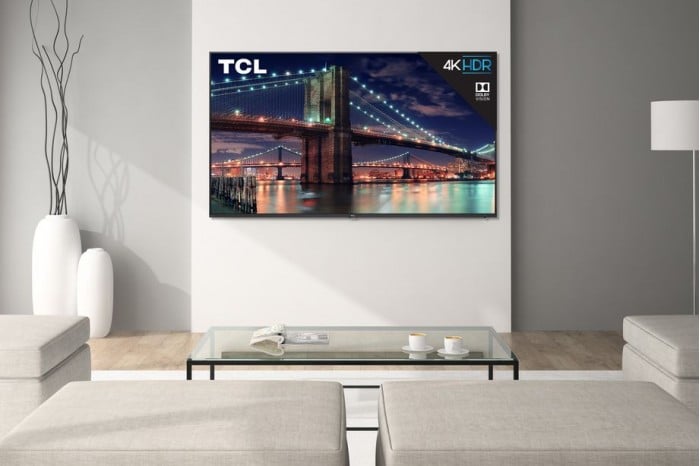 For this year, TCL has decided to change the name of the series and to unveil two TVs which remedy these two issues. The P-Series has been renamed to TCL 6 series and it has been showcased at Consumer Electronics Show in Las Vegas, together with the 5 series. TCL 6 is a series composed of models with two different sizes: 55 and 65 inches. The first will have 120 local dimming zones, while the second will have 96 local dimming zones. This time, the design is made of metal with a matte finish.
According to the company, the 6 series can reach a higher peak brightness than the P-Series, and it might also be suitable for games thanks to its low input lag. It has the DCI-P3 color space coverage and the IPQ Engine which, according to the company, will provide a great precision at color performances. Besides the 6 Series, a 5 Series, which is a cheaper line of TVs, has been announced as well. It is equipped with the HDR10 and Dolby Vision technology just like the 6 Series, and it will be available to purchase in sizes from 43 to 65 inches. Both the series will be available to purchase starting from this spring, and they will have Roku OS installed which will allow the access to multiple streaming services and vocal commands.
For more coverage from CES 2018, check out this link!