Master Lu Benchmark's Top 10 2017 Smartphone Ranking Puts Nubia Z17 On Top, Above Mate 10 Pro!
Just like AnTuTu and Geekbench, Master Lu is another benchmark for devices like smartphones. Though it's not as popular as the other two, we do see its benchmarks crop up once in a while and its benchmark listing usually gets attention among the western media especially when its of an unannounced model.
Despite being unpopular outside of China, the benchmark tool has a database of all the major smartphones released in the past one year, including the OnePlus 5, Nubia Z17, Mate 10 models and so on. So, when the benchmark app released its top 10 list of smartphones of 2017, it was worth checking who came out on top.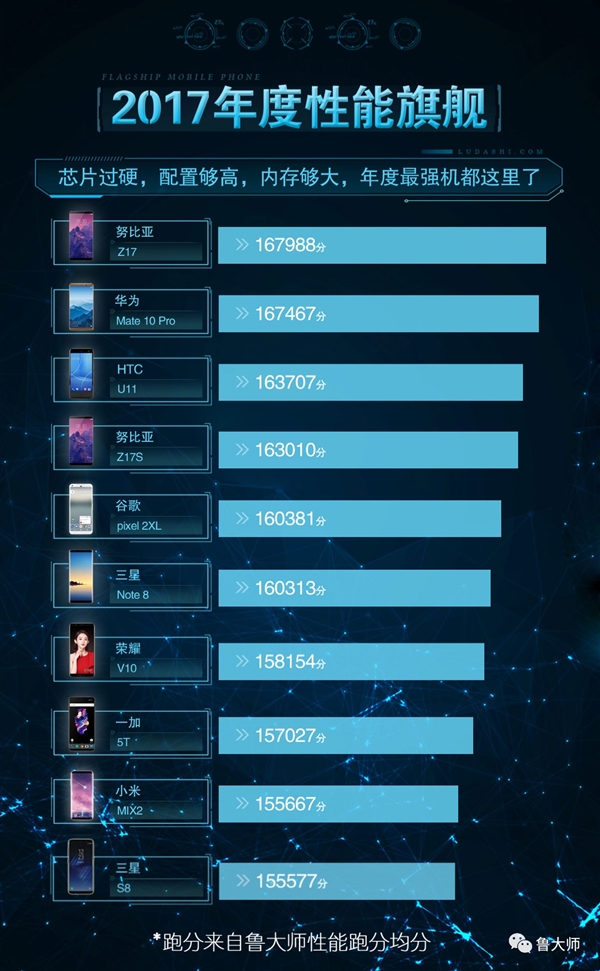 We all keep a close watch on AnTuTu's top smartphones and unsurprisingly, the OnePlus 5 and the Galaxy Note 8 are the top two smartphones on the benchmarking app. The AnTuTu rankings are yet to be updated to include recent models and it seems that the ranking hasn't been refreshed since October 2017.
However, in case of Master Lu's top 10 smartphones list, there are quite a few recent models including the recent Mate 10 models. The Nubia Z17, though old, is right on top and followed by the Mate 10 Pro and the HTC U11. The OnePlus 5T model is way behind, at the eight spot. The Galaxy Note 8 is also down at the sixth spot, preceded by Google's Pixel XL 2. Eight out of the 10 models were powered by Snapdragon 835, while Kirin 970 powered flagships occupied two spots in the list.
It's worth mentioning that the first two scores are very close. The Huawei Mate 10 Pro (167467) with Kirin 970 scores almost as much as the Nubia Z17 (167988) powered by Snapdragon 835. So it looks like Master Lu's benchmark puts Kirin 970 very close to SD835 in terms of performance.