Nokia Announces Its Under-The-Bed Sleep Tracking Accessory — Nokia Sleep, Costs $99
At Consumer Electronics Show (CES) this year, Nokia added a new accessory to its portfolio of sleep-tracking device — the Nokia Sleep. The device is able to track your slumber patterns, as well as adjust the lighting and temperature when the user is gettings in or out of bed.
The Nokia Sleep is a thin under-the-mattress accessory that has built-in movement sensors, which are used to track metrics like sleep length, heart rate, sleep quality, and snoring. The collected data can be viewed in the accompanying Health Mate. Data is synced to the user's smartphone using Wi-Fi.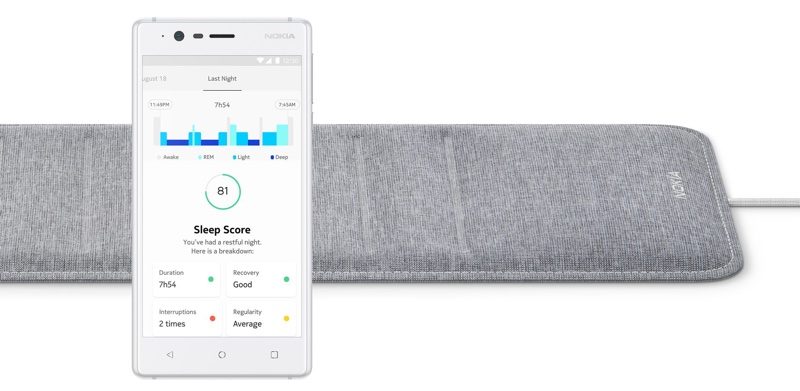 It provides Sleep Score in the Nokia's Health Mate app that shows users if their night was restorative. In the mobile application, users can also take advantage of the Sleep Smarter program for further improving their nights over time.
The app provides data history, personalized advice and coaching programs, including one developed specifically around sleep. The company says that along with seamlessly delivering personalized sleep analysis, the device also offers smart home control through IFTTT integration — an automation service for all internet-connected things.
Nokia also announced the integration of its Health Mate app with Alexa, the cloud-based voice service from Amazon, providing users with data and insights on their activity, sleep and weight.
Read More: Nokia 6 (2018), Nokia 7 Android 8.0 Oreo Update Rollout Has Started, Nokia 6 Oreo Update Coming Soon
The Nokia Sleep is priced at $99 and will be available shortly. This new device from Nokia is similar to Beddit's iPhone-connected sleep tracking system. It's noteworthy that Apple acquired Beddit in May last year for an undisclosed amount.