Microsoft Surface Book 2 and Surface Laptop: New Affordable Variants Announced
by Michele Ingelido ago0
Together with the new Surface Pro (2017), Microsoft Surface Book 2 and Microsoft Surface Laptop are the latest professional PCs launched by the Redmond giant. These computers offer high-end specs and they are very compact and versatile, but they are also known for being very expensive. But now, the company has decided to officially unveil two cheaper versions of these devices, for people who want a professional laptop but have a low budget. While the standard Surface Laptop comes with an Intel Core i5 or i7 CPU depending on the configuration, the new cheaper version which has just been announced comes with a less powerful Intel Core M3.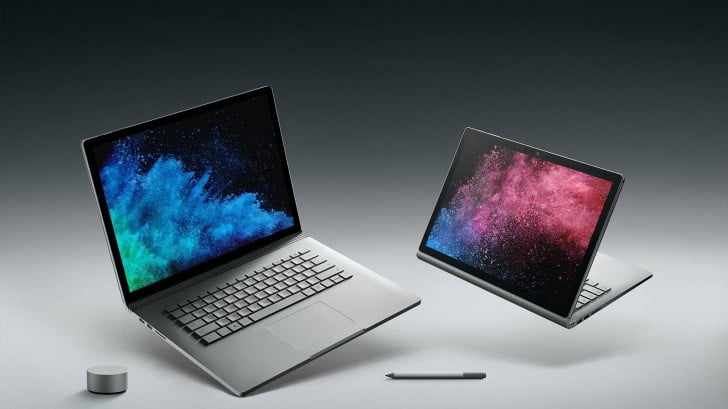 It is still a good CPU, but it is just a mid-range processor for a laptop. Further, this version comes with 4 GB of RAM and 128 GB of internal storage. Thanks to this lower-end hardware side, the price tag drops to just $799, while the standard version which is already in the market costs $999. Microsoft Surface Book 2, in its variant with a 13.5-inch display, has been released in a more affordable version as well, but it is more powerful than the cheaper Surface Laptop. In the new variant, Microsoft Surface Book 2 sports an Intel Core i5 processor, 8 GB of RAM and 128 GB of internal storage.
The version which is already available starts from $1499 (the one with 256 GB of internal storage), while this one costs just $1199. The rest of the specs of the laptops remains exactly the same as the actual versions. Microsoft Surface Laptop has a metal design with an Alcantara-coated keyboard, a 15.6-inch display with a resolution of 2256 x 1504 pixels, and a multi-gesture trackpad. Microsoft Surface Book 2 has a 13.5-inch touchscreen monitor with a resolution of 3240 x 2160 pixels, a detachable keyboard, and the support to the Surface Dial and the Surface Pen for handwriting and drawing with a high precision.
(Via)