The Xiaomi Redmi Note 5 was rumored to launch with an unannounced Snapdragon 632 processor but instead it launched with a Snapdragon 625. Even the Pro version is powered by the Snapdragon 636. However, a recently seen Geekbench listing of a device called the Xiaomi Berlin reveals it is powered by the Snapdragon 632.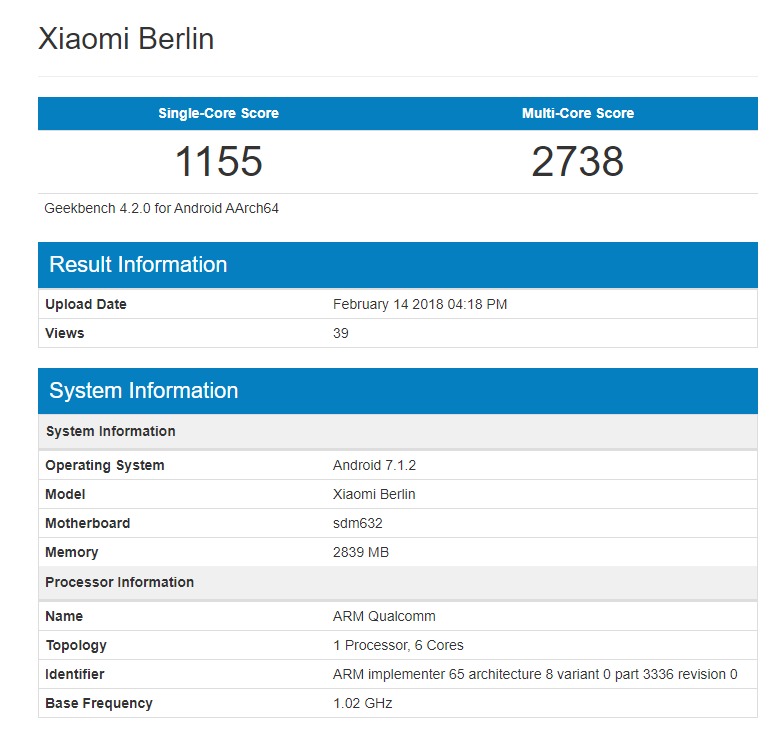 The Xiaomi Berlin was benchmarked in February. It runs Android 7.1.2 Nougat and has 3GB of RAM. The processor is listed as the sdm632 with six cores and a base frequency of 1.02GHz.
The device scored 1155 in the single-core test and 2738 points in the multi-core test. The single-core score is much higher than that of devices powered by the Snapdragon 630 (e.g. HTC U11 Life) but the multi-core score is significantly less.
READ MORE: Xiaomi Mi Mix 2 Android Oreo Update Is Finally Here; Brings Face Unlock & Full-Screen Gestures
This is probably a test device that has not been fine tuned as you can see from the base frequency, and one that may never even launch. The number of cores are also said to be incorrect as the Snapdragon 632 is said to have 8 and not 6 cores.
We still don't know if Qualcomm plans to release the Snapdragon 632 processor. The Snapdragon 630 and Snapdragon 636 are more than sufficient and manufacturers are still churning out phones powered by the Snapdragon 625. Let's not also forget that there is the Snapdragon 626. Nevertheless, Qualcomm may still go ahead with the release of the SD632 later this year.