Samsung Galaxy S9 and S9+ Gets Its First Update With Latest Security Patch
by Michele Ingelido ago0
Samsung Galaxy S9 and S9 Plus are still in the pre-order phase, but they have already received their first update, which is focused on security. The update has been reported from Germany and it is identified by the build number G960FXXU1ARC5 for the standard S9 and G965FXXU1A5C5 for the S9 Plus. Its almost 243 MB in size and, according to the official changelog it does not bring many changes. But it is still an important update because it includes important security fixes. The first update for Samsung Galaxy S9 and S9 Plus contains the March security patch, which is the latest released.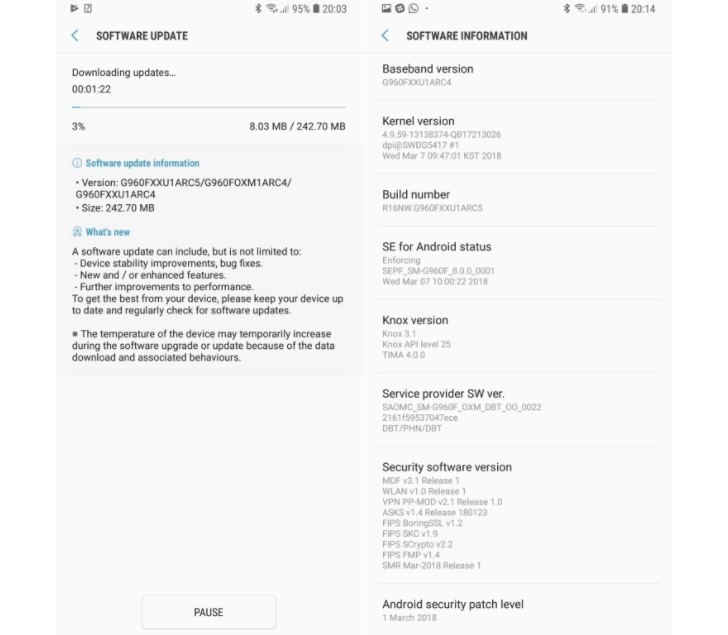 In case you do not know, Google releases a security patch every month to fix the most important vulnerabilities found on Android. The update also contains security fixes for Samsung's firmware besides the ones by Google. From what the changelog suggests, the device stability has been improved and some bugs have been fixed as well. "New and / or enhanced features" have been implemented, but we do not know which features the changelog is talking about because they are not mentioned. At last, the log mentions further improvements to performance.
If you have the Samsung Galaxy S9 or S9 Plus, but if you still didn't receive the notification you can check for the update by heading to Settings, then tap on Software updates and Check for updates. It is also possible to install the update via Samsung Smart Switch. Samsung Galaxy S9 and S9+ will be soon available to purchase from all around the world: the pre-orders will end on March 15 and the devices will start being shipped from the day after. Among the best improvements in these devices, there are cameras with variable apertures which can adapt to every condition in order to shoot better photos with low light and much more.
(Source)