Smartisan Nut 3 Will House A Big Battery In An Extremely Thin Body
by Michele Ingelido ago0
Smartisan has always surprised us all when it comes to the design of its smartphones. The company usually releases very original devices in terms of aesthetics, and it seems that the upcoming Smartisan Nut 3 will surprise us again, but this time not only for its looks. The company has just published a poster which revealed important details about the aesthetics and the battery life of the handset. According to the poster, the smartphone will be 7.1 mm thin and it will weigh only 137 grams. Even though it will be extremely compact and lightweight, the handset will have a battery which will be able to last 35 hours on a single charge.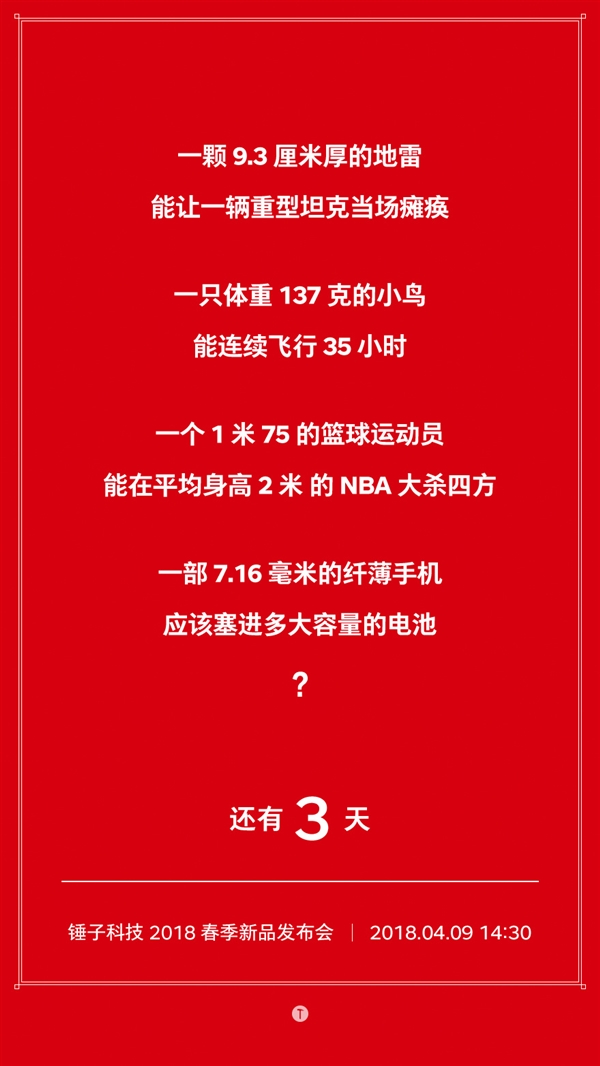 Usually, a very big battery is needed to make a smartphone last this long, with more than 4000mAh capacity. But it would be very difficult to include such a big battery in a 7.16 mm thin body and at the same time limit its weight to just 135 grams. So, Smartisan Nut 3 will either be a revolution or a device with a greatly-optimized software. According to reports, Smartisan Nut 3 will come with a Snapdragon 636 SoC, the same as Xiaomi Redmi Note 5 Pro. This chipset is the successor of the Snapdragon 625 and 630, and it is known to be very power-efficient. That is why the long battery life starts to make sense, even though 35 hours remains an unbelievable figure.
The Snapdragon 636 by Qualcomm is said to be paired with 4 GB of RAM and 32, 64, or even 128 GB of internal storage depending on the variant that you will choose to buy. The device should also boast a display with an 18:9 aspect ratio, but it will include a physical Home key with a fingerprint reader embedded. From what rumors suggests, on the rear side there may be a 12 MP dual camera setup. Smartisan Nut 3 is expected to be priced at 1599 Yuan ($253) for the base version and the price is expected to raise up to 1999 Yuan ($316) for the most powerful configuration.
(Via)