Report Says We May Likely See A Launch Spree of Foldable Phones Later This Year
We can't keep count of the number of foldable phone patents we have seen these past few years. Despite the surge in patents, we can only boast of the ZTE Axon M as the only foldable phone that has been commercialized. Even at that, the Axon M isn't really a true foldable phone as it appears to be a single phone with two screens. However, a report by DigiTimes says that the first wave of truly foldable smartphones is likely to make their debut at the end of 2018.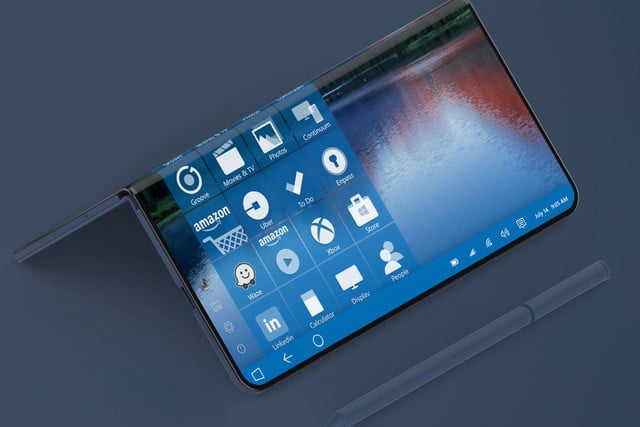 According to the report,  a number of brand vendors are accelerating their R&D efforts on related projects, according to industry watchers. The smartphone market leader, Samsung is expected to unveil its roadmap for its foldable models in 2018 according to a report by Korea-based ET News. Samsung Electronics already has a number of patents related to foldable smartphones in Korea and the US. The report also says that Samsung has been developing smartphones with inward-folding displays since five years ago and the manufacturing process has reached up to 80% completion.
Apart from Samsung, U.S tech giant Apple is also said to have applied a number of patents for clamshell smartphones, including one for a tri-fold display design, according to the watchers. Apple's patents are said to have applicability in other products apart from smartphones. So, it is uncertain Apple will join the train this year.
Nevertheless, if Samsung is to release a truly foldable smartphone this year, then we expect a surge in such design by Chinese OEMs. adding that Apple could also use its folding technology in products other than smartphones. Chinese tech leader, Huawei has long been detailed to be working on a foldable phone by various patent applications. The latest patent filing published on the World Intellectual Property Organization (WIPO)website is that of a foldable phone design that can be turned into a tablet Huawei in September 2017 also applied for a patent for a single display screen that can be folded in the middle. In that vein, Huawei is tipped as planning to unveil its first foldable smartphone by the end of 2018.
Read More: Huawei, OPPO, Samsung, LG Are All Working On Dual Screen Foldable Phones
Other OEMs who have got foldable phone design patents include LG electronics, Oppo, Lenovo and ZTE. OPPO applied patents for foldable smartphones first in 2017, and again for other patents in 2018, with patent authorities in China. Meanwhile, Lenovo has unveiled a foldable smartphone prototype whose display can be extended to 7.8-inch from 5.5-inch when opened. Lenovo has not yet announced a timetable for the production of the foldable smartphone. ZTE may improve on the Axon M design, thus giving us a truly foldable phone. According to Strategy Analytics, global shipments of foldable smartphones are expected to total 700,000 units in 2019 and will gradually expand to 30.4 million in 2021 and to 50.1 million in 2022.
(source)