It has become a tradition for AnTuTu to release the top phones for each month in terms of popularity or performance. The list of the top performing Android phones for the month of March has been released and it is not surprising that it is headed by a new flagship.
At the top spot is Samsung's Galaxy S9+. This is the Snapdragon 845-powered variant with a clock-speed of up to 2.8GHz. It scored 264,402 points on AnTuTu and is followed closely by the Galaxy S9 with 263,754 points.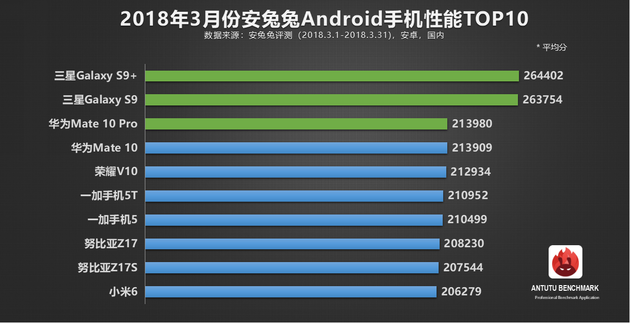 Next on the list is Huawei's Mate 10 Pro and Mate 10. Both are powered by Huawei's own Kirin 970 SoC. This is the first mobile chipset with a dedicated NPU. Although both phones are powered by the same SoC, the Mate 10 Pro has a higher score (213,980) than the Mate 10 (213,909). This is likely due to the larger RAM on the Pro, though it also has a 4GB RAM variant.
Huawei is again on the list but it is its sub-brand, Honor, taking the fifth spot with the Honor V10. Just like the Mate 10 duo, this is also powered by the Kirin 970 but it sells for much less than both. It scored 212,934 points on the benchmark site.
OnePlus clinches the sixth and seventh positions with the OnePlus 5T and OnePlus 5 respectively. Both devices are powered by the Snapdragon 835.
The Nubia Z17 and Z17s follow and they are also powered by the Snapdragon 835. Xiaomi's Mi 6 closes the list.
READ MORE: Huawei Mate 20 AnTuTu Listing Appears; Reveals Kirin 980's Prowess with 350,000+ Score
When the list for April is released, we expect the Huawei P20 and P20 Pro to be on it. We should also see the Xiaomi Mi MIX 2s in the top 5.
(Via)