In March, OPPO had launched the OPPO F7 smartphone with a notched display. The Chinese manufacturer is known for launching "Youth" edition as lighter version for its F-series smartphones. Now that the company has already unveiled the F7 smartphone, it is speculated to be working on OPPO F7 Youth. Myanmar is one country that is yet to receive the OPPO F7 smartphone. A promotional video that has surfaced on OPPO's Myanmar Facebook account shows that the country will be soon receiving OPPO F7 and OPPO F7 Youth smartphones.
Through the promo video, it can be known that the OPPO F7 Youth features a display that supports an aspect ratio of 19:9. It appears that the major selling point of the F7 Youth would be its 25-megapixel selfie camera that is equipped with Ai Beauty 2.0.
ကစ္ေလးရဲ႕ "သူက …." ဘယ္သူလဲ? #OPPO #OPPOF7 #F7Youth #AISelfieအစြမ္းရဲ႕စစ္မွန္တဲ့အသြင္[Unicode]ကစ်လေးရဲ့ "သူက …." ဘယ်သူလဲ? #OPPO #OPPOF7 #F7Youth #AISelfieအစွမ်းရဲ့စစ်မှန်တဲ့အသွင်

Posted by OPPO on Thursday, May 10, 2018
Unlike the red-colored OPPO F7, the Black colored F7 Youth does not feature a rear-mounted fingerprint scanner. The back panel of the F7 Youth is fitted with a single camera that is accompanied by its LED flash.
As far as the appearance of the F7 Youth is concerned, it looks quite similar to the OPPO A3 that features a rear panel with diamond-cut design that is devoid of fingerprint scanner. This suggests that the F7 Youth will be only equipped with facial recognition feature for unlocking it.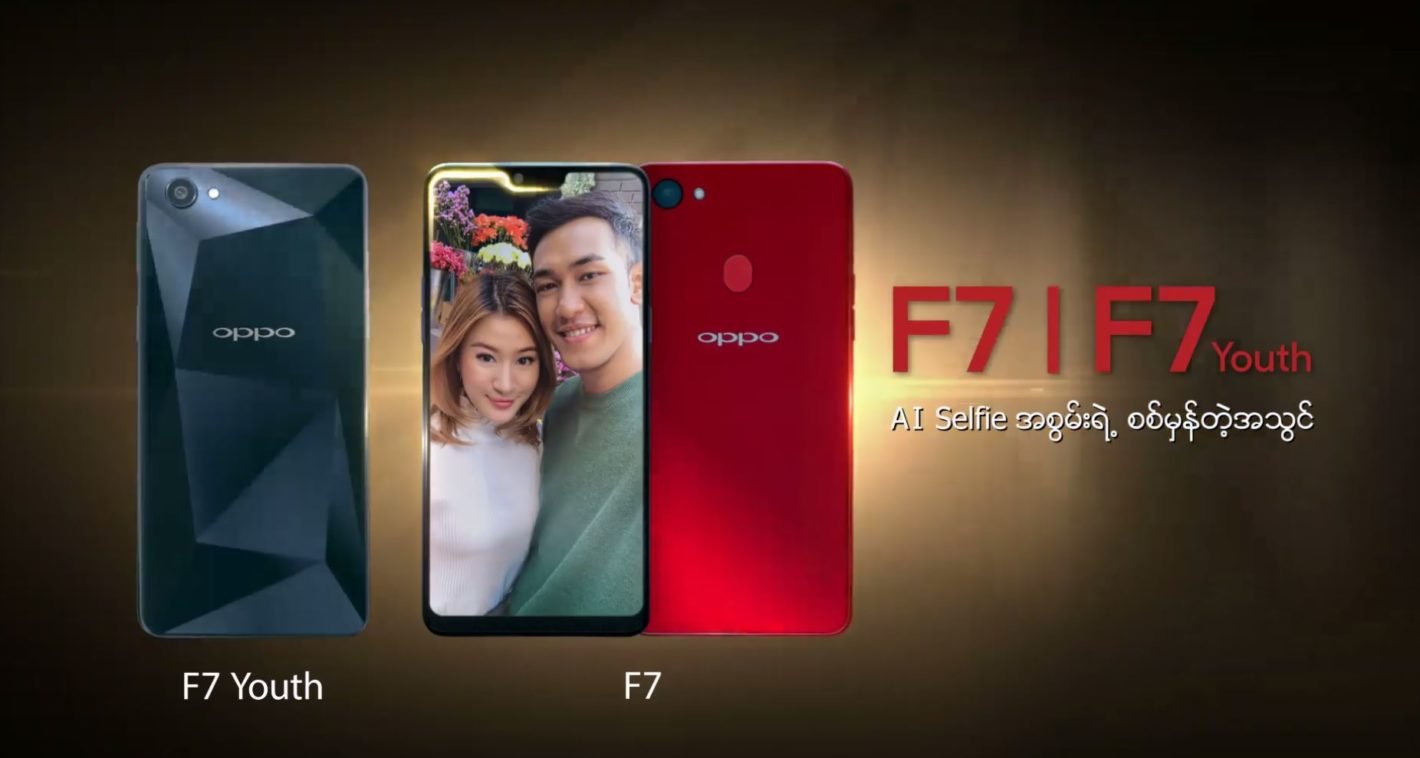 Read More: Oppo Teases A New Product Launch Tomorrow, Oppo R15 Barcelona Edition Expected
There is no information available on the other specifications of the OPPO F7 Youth. However, since it is expected to arrive as a lighter edition of the OPPO F7, it is likely to feature 4 GB of RAM or 3 GB of RAM. It may arrive in 32 GB and 64 GB storage models.
The OPPO F7 Youth will be preinstalled with Android 8.1 Oreo and the last Color OS skin. It may include the same 3,400mAh battery that powers the regular OPPO F7. The cost of the F7 Youth is under the wraps, but the pricing pattern of the predecessor models suggests that it could be priced around $260.
(via)