Xiaomi Becomes Indonesia's Second Largest Smartphone Brand, YoY Growth of 1455%!
by Michele Ingelido ago0
Xiaomi's expansion seems to be unstoppable. The Chinese company is registering record-breaking sales all around the world and it is slowly becoming a real menace to the veteran Samsung and Apple. After reaching the 4th place in the ranking of best smartphones brand in the world, Xiaomi has just become the second largest smartphone manufacturer in Indonesia.
The Senior Vice President Wang Xiang has just published a report by Canalys which highlight the second position of its company in the ranking with 18.3 percent of share in Q1 2018 (from January to March). In the last period, Samsung is the only company which has shipped more smartphones than the Chinese hi-tech giant in Indonesia, with a share of 25.5 percent. Samsung has shipped a total of 2.3 million units, while Xiaomi had 1.7 million units shipped.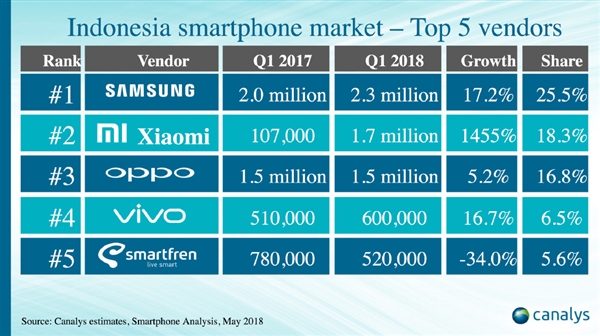 The company has registered a 1455% year over year growth and as compared to the same period last year, Xiaomi had shipped only 107,000 smartphones in Indonesia. This is definitely one of the most incredible growths ever registered in the smartphones market. At the 3rd place of the ranking, there is OPPO with 1.5 million units shipped (same as Q1 2017) and a share of 16.8%, while at the 4th spot we can find Vivo with a share of 6.5% and 600,000 units shipped.
RELATED: Xiaomi VP Confirms Redmi S2 Is Heading To India On June 7
It took just a year for Xiaomi to outclass both OPPO and Vivo in the ranking.
(via)