Xiaomi's Lei Jun Highly Recommends The MiTu Drone To Fans On Weibo
Xiaomi launched the MiTu Quadcopter drone a couple of weeks back as a cheap and durable RC toy for kids and adults who might fancy the device. The Xiaomi MiTu Drone went on sale towards the end of April in China and the response has been pretty impressive. Xiaomi's CEO Lei Jun is now trying to rack up more support for the product by recommending it to fans on Weibo.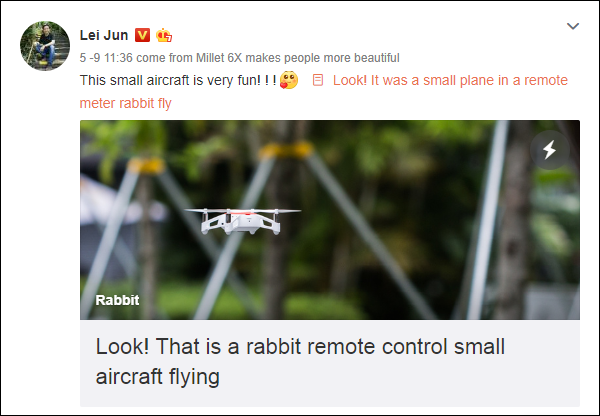 Lei Jun over a 3-day stretch recommended the product severally on his Weibo page. The several teaser posts by the CEO projects the several features of the MiTU drone including ease of operation, portability, HD camera as well as several demo photos of the device. On one instance, the CEO highly recommended the quadcopter drone to fans.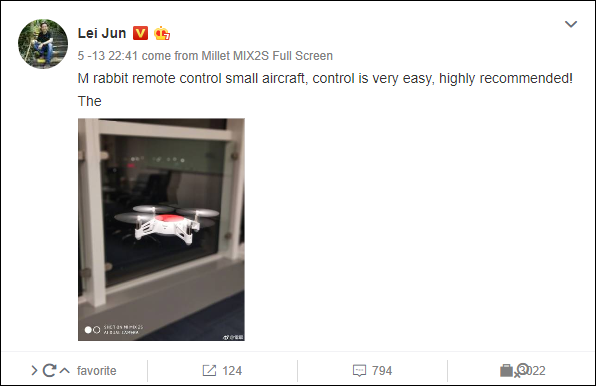 The Xiaomi MiTU drone has a compact size and uses a unique one-piece frame structure design with a plastic body. The plastic has a low density and high toughness making it more resistant to falls. The propeller blades are made of glass fibre. The quadcopter also comes with four wheelbases, each 11cm long. The entire drone weighs just 88g which is ideal for better flights. The body is made of modified PP plastic with low density and high toughness making it more resistant to falling. The propeller blades are made of glass fibre.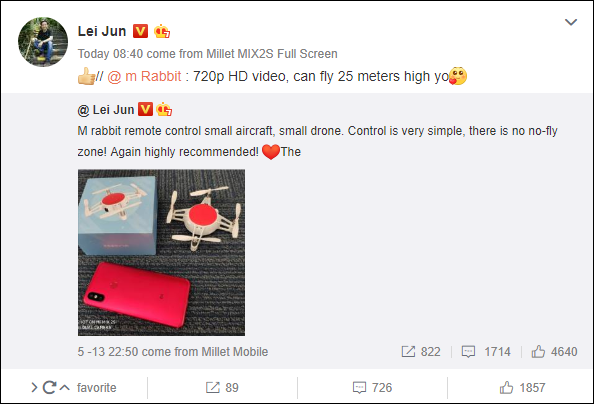 Despite being designated a toy, the drone comes with a front-mounted camera which can shoot 720p videos and can capture still image aerial photography at 1600 x 1200p resolution. The MiTU RC Quadcopter also comes equipped with a quad-core 1.2GHz SoC and 4GB of storage. There are several sensors onboard, including ultrasonics, barometers, and optical flow sensors. The drone also comes with precision hovers which enables the drone to fly steadily and smoothly in the indoor environment.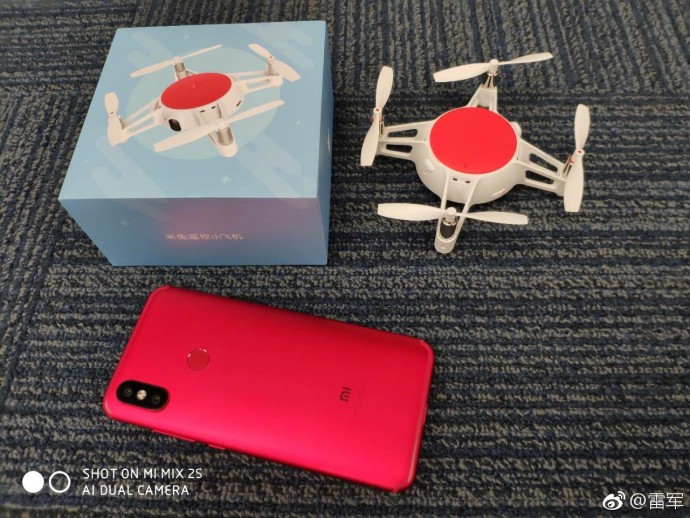 Read More: LeveTop is a Compact Folding Drone with a Big Battery, 1080p Stabilized Camera & More
In addition, it also has a headless mode, gravity sensing, palm take off, four-way rolling and other advanced modes along with a large bandwidth, low delay, anti-interference ability 5.8GHz high-frequency signal Wi-Fi. Surprisingly, the MiTu drone can hit a maximum height of 25 metres while the remote control can be used up to a distance of 50 metres. Keeping the drone fired up is a built-in 920mAh battery that can maintain 10 minutes of playtime. All this comes in at just 399 Yuan ($63). It is likely that Xiaomi would launch the drone for the global market someday but at the moment, online retailers GearBest, Geekbuying and Banggood ships the MiTu drone for $79 which is a pretty fair price.