Are you looking for a high-end or a flagship phone but don't have enough money to get the most expensive ones? Then the OnePlus 6 and the Huawei Honor 10 could be your perfect match. They boast flagship-level components even though their price is way lower than Samsung Galaxy S9, iPhone X and all the known top-end smartphones of 2018. In some countries such as India there isn't even a big difference between the prices of these two handsets, so we decided to post a comparison which can potentially help you in the choice.
Who will win between OnePlus 6 vs Honor 10? Keep reading to find out.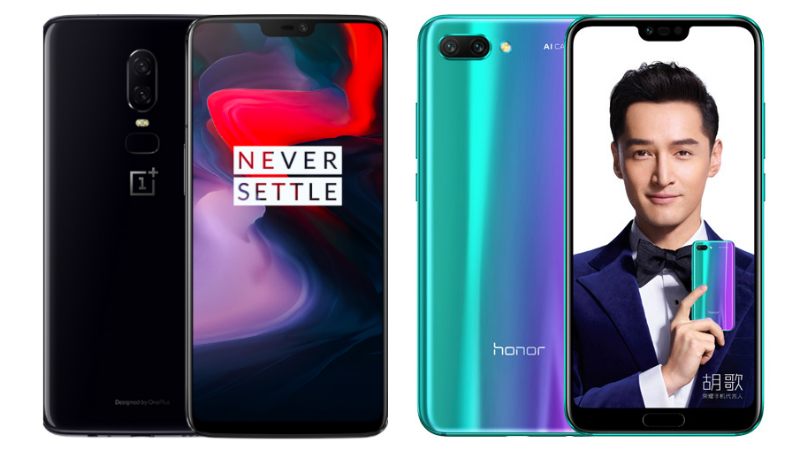 OnePlus 6 vs Huawei Honor 10
OnePlus 6
Huawei Honor 10
DIMENSIONS AND WEIGHT
 155.7 x 75.4 x 7.8 mm, 177 g
 149.6 x 71.2 x 7.7 mm, 153 g
DISPLAY
 6.28 inches, 1080 x 2280p (Full HD+), 19:9 ratio, Optic AMOLED
 5.84 inches, 1080 x 2280p (Full HD+), 19:9 ratio, IPS LCD
PROCESSOR
Qualcomm Snapdragon 845, octa-core 2.8 GHz
 Huawei HiSilicon Kirin 970, octa-core 2.4 GHz
MEMORY
6 GB RAM, 64 GB – 8 GB RAM, 128 GB – 8 GB RAM, 256 GB
6 GB RAM, 64 GB – 6 GB RAM, 128 GB
SOFTWARE
 Android 8.1 Oreo, Oxygen OS
 Android 8.1 Oreo, EMUI 8.1
CONNECTIVITY
 Wi-Fi 802.11 a/b/g/n/ac, Bluetooth 5.0, GPS
 Wi-Fi 802.11 a/b/g/n/ac, Bluetooth 4.2, GPS
CAMERA
 Dual 16 + 20 MP, f/1.7 + f/1.7, OIS
16 MP f/2.0 front camera
Dual 16 + 24 MP, f/1.8
24 MP, f/2.0 front camera
BATTERY
 3300 mAh, fast charging 5V / 4A (Dash Charge)
 3400 mAh, fast charging 5V / 4.5A
ADDITIONAL FEATURES
 Dual SIM slot
 Dual SIM slot
Design
Aesthetics have always been the strong point of Honor flagships and this doesn't change with the Honor 10. It comes with a stunning reflective glass back which is also available in gradient colors. OnePlus 6 has a glass back as well and it is very elegant, but it is not as attractive and unique as the one of Honor 10. But on the other hand, note that OP6 has some sort of protection which makes it splash resistant, so we can define it as a flagship with a better build quality. If we had to choose a device by basing on the aesthetics, we would pick Honor 10 for its original design and its smaller dimensions.
Display
OnePlus 6 definitely has a more interesting display than its opponent. It sports an Optic AMOLED panel with sRGB and DCI-P3 support, with a higher size (6.28 inches) and also Gorilla Glass 5 protection. This display is able to show stunning color and very deep blacks. Honor 10 has just a classic IPS FHD+ display and there is nothing special in terms of viewing quality. So we prefer OnePlus 6 for multimedia and viewing quality.
Hardware/Software
We still didn't have the chance to test it thoroughly, but we believe that OnePlus 6 will not only provide better performance than the Honor 10, but it will also be one of the fastest and smoothest smartphones in the market. It comes with a higher-end SoC and up to 8 GB RAM and, even though Honor 10 has flagship-level components too, there should be a noticeable difference in performance, at least in the most demanding scenarios such as gaming and multi-tasking. Thanks to EMUI, Honor 10 has more features on the software side and it is more comfortable to use. But OnePlus 6 wins when it comes to hardware and performance.
Camera
Both OnePlus and Huawei made huge steps forward at improving the cameras of its flagships. These handsets can capture stunning photos and awesome videos, with a high level of detail even in less suitable conditions. We are going to prefer OnePlus 6 as it sports OIS and it can record 4K videos at 60 fps, but Honor 10 remains an amazing camera phone for both normal photos and selfies thanks to its 24 MP front snapper.
Battery
OnePlus 6 and Honor 10 have a 3300 mAh and a 3400 mAh battery, respectively. Both the batteries can last one day of normal use and the difference in battery life between them is not very noticeable. Both are well-optimized, but due to its AMOLED display, OnePlus 6 should last a bit more in several scenarios.
Price
Prices depend on the region. There are zones in which OnePlus 6 is much more expensive than Honor 10 and zones such as India where there is just a $20 difference (Rs. 32999). In the global market, Honor 10 has been launched for just €399/$467, while OnePlus 6 starts from €519/$529 (Rs. 34999 in India). OnePlus 6 wins the battle, so we would get it if we find these two handsets at around the same price like in India, but Honor 10 has a higher value for money in the global market.
Which one would you pick?
OnePlus 6 vs Huawei Honor 10: PRO and CONS
OnePlus 6
PRO
Better display
Higher performance
Splash resistant
Great camera
CONS
Huawei Honor 10
PRO
More affordable
Original design
Compact dimensions
Pro cameras
CONS
Average display
No micro SD