Meizu M6T vs Xiaomi Redmi 5: Who's The King Of The Budget Segment?
by Michele Ingelido ago0
When it comes to the price range under $200 or €200, you'll probably end up buying a Xiaomi phone in the current market standing. But Meizu is putting a lot of efforts in this price range and to some extent, the company's devices have started to get attention. This week, the company announced the new Meizu M6T, a device which will cost around €100 and is expected to affect the sales of Xiaomi Redmi 5. Here's an in-depth comparison between the Meizu M6T vs Xiaomi Redmi 5.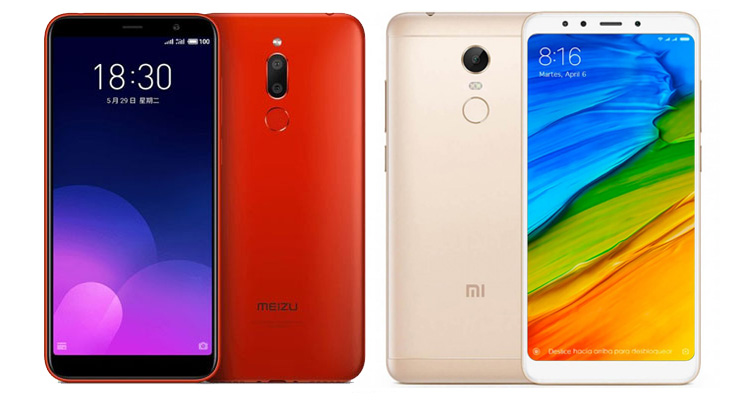 Meizu M6T vs Xiaomi Redmi 5
Meizu M6T
Xiaomi Redmi 5
DIMENSIONS AND WEIGHT
152.3 x 73 x 8.4 mm, 145 g
151.8 x 72.8 x 7.7 mm, 157 grams
DISPLAY
5.7 inches, 720 x 1440p (HD+), 282 ppi, 18:9 ratio, IPS LCD
5.7 inches, 720 x 1440p (HD+), 282 ppi, 18:9 ratio, IPS LCD
PROCESSOR
MediaTek MT6750, octa-core 1.5 GHz
 Qualcomm Snapdragon 450, octa-core 1.8 GHz
MEMORY
3 GB RAM, 32 GB – 4 GB RAM, 32 GB – 4 GB RAM, 64 GB – micro SD slot
2 GB RAM, 16 GB – 3 GB RAM, 32 GB – 4 GB RAM, 32 GB – micro SD slot
SOFTWARE
Android 7.0 Nougat, Flyme UI
Android 7.1.2 Nougat, MIUI 9
CONNECTIVITY
Wi-Fi 802.11 a/b/g/n, Bluetooth 4.1, GPS
Wi-Fi 802.11 b/g/n, Bluetooth 4.2, GPS
CAMERA
Dual 13 + 2 MP f/2.2 + f/2.4
8 MP f/2.0 front camera
12 MP f/2.2
5 MP front camera
BATTERY
3300 mAh
 33000 mAh
Fast charging 5V / 2A
ADDITIONAL FEATURES
Hybrid Dual SIM slot
Hybrid Dual SIM slot
Design
Despite the fact that it was launched in elegant shades, Meizu M6T is not really the best phone that you can get when it comes to aesthetics and build quality. It has a cheap plastic design, but this will hopefully make the signal stronger. Xiaomi Redmi 5 has a higher quality metal back, it is more compact and even thinner, even though displays come with the same size. However, Meizu M6T is the only one among the two coming with a comfortable mBack fingerprint reader which can help you navigate in the UI through gestures.
Display
Two 5.7-inch panels with an HD+ resolution and the IPS technology. With these specs, do not expect to see a noticeable difference between the viewing quality of these two panels. HD is the minimum resolution you can get in this price range, but it is also rare to find a Full HD phone under $120. Further, the low resolution helps a lot with the energy consumption.
Hardware/Software
There is nothing to compare when it comes to hardware: Xiaomi Redmi 5 wins. It sports an octa-core Snapdragon 450 SoC by Qualcomm which can run at a max frequency of 1.8 GHz. And it is a much better processor than the octa-core Mediatek MT6750T present on the Meizu M6T. It is faster and way more powerful. On the other hand, note that Meizu M6T has a variant with 64 GB of internal storage which is not available with the Redmi 5. Both phones come with Android Nougat out of the box, but given that they are heavily customized with Xiaomi's and Meizu's own user interfaces it does not have a strong impact. Both these devices are full of additional features and when we talk about software it is all about individual tastes, even though we prefer MIUI as its a bit more functional and user-friendly.
Camera
Given that these are devices sold for less than $150 we can not define them camera phones, but Meizu M6T has a camera which seems very interesting for this price range. It is a dual setup with 13 + 2 MP resolution which can calculate depth for the portrait mode. Further, it has a good 8 MP selfie camera with a decently-bright f/2.0 aperture. We believe Meizu M6T is a better camera phone than its opponent.
Battery
3300 mAh batteries in each case, so we will have to test them to know exactly which one will last more. However, we are kinda sure that, just like Xiaomi Redmi 5, Meizu M6T will provide a great battery life. It has low-energy hardware components and an above-average battery capacity which should allow it to last up to 2 days with a low/moderate use, just as Xiaomi Redmi 5 does. Note that only Xiaomi Redmi 5 supports fast charging technology, so you will probably have to wait for a bit more in order for the Meizu M6T to charge to 100%.
Price
Price is not really the element which establishes the winner as they are very similar.
In China, Meizu M6T starts from €108/$125 for the base configuration, while Xiaomi Redmi 5 starts from €103/$120. You should go for the Meizu M6T if camera and selfies are your main concern. Otherwise, Xiaomi Redmi 5 is a better choice. For now, the availability of Meizu M6T has been announced only in China and we do not know if and when it will be available outside the country. So it looks like the Redmi 5 is the only choice if you do not live in China.
Which one would you pick?
Meizu M6T vs Xiaomi Redmi 5: PRO and CONS
Meizu M6T
PROS
Up to 4/64 GB
Dual cameras
mBack technology
Efficient
Affordable
CONS
Xiaomi Redmi 5
PRO
Great hardware side
Long battery life
Good price
Fast charging
CONS