AnTuTu is considered one of the reliable benchmarks for testing the performance of a smartphone. Each month it releases its list of top 10 smartphones that offers best performance. Until the arrival of Snapdragon 845 chipset driven phones, AnTuTu's list of best performing phones were led by Huawei Mate 10 Pro and Mate 10 that are fueled by Kirin 970 SoC. Today, the benchmarking platform has released the list of top 10 best performance smartphones between May 1 and May 31.
As it can be seen in the image below, the list is mainly populated by Snapdragon 845 powered phones. One should be aware of the fact that the list is not showing the highest score of each smartphone, but their average benchmarking score.
The list is led by Snapdragon 845 powered OnePlus 6 that has managed to salvage an impressive average benchmarking score of 274,910. The China-exclusive Smartisan R1 that is also powered by the same chipset is sitting on the second position. It has scored 272,520 points. The Black Shark gaming phone by Xiaomi that includes the same SoC has scored 270,235.
The Samsung Galaxy S9 and Galax S9+ that are also fueled by SD845 have respectively scored 263,218 and 262,571 points on AnTuTu. Currently, they are placed on fourth and fifth positions on the listing of best performing phones on AnTuTu in May. The Xiaomi Mi MIX 2S is now holding to sixth position with a score of 261,719. On seventh is Nubia's Red Magic gaming phone with a score of 214,904.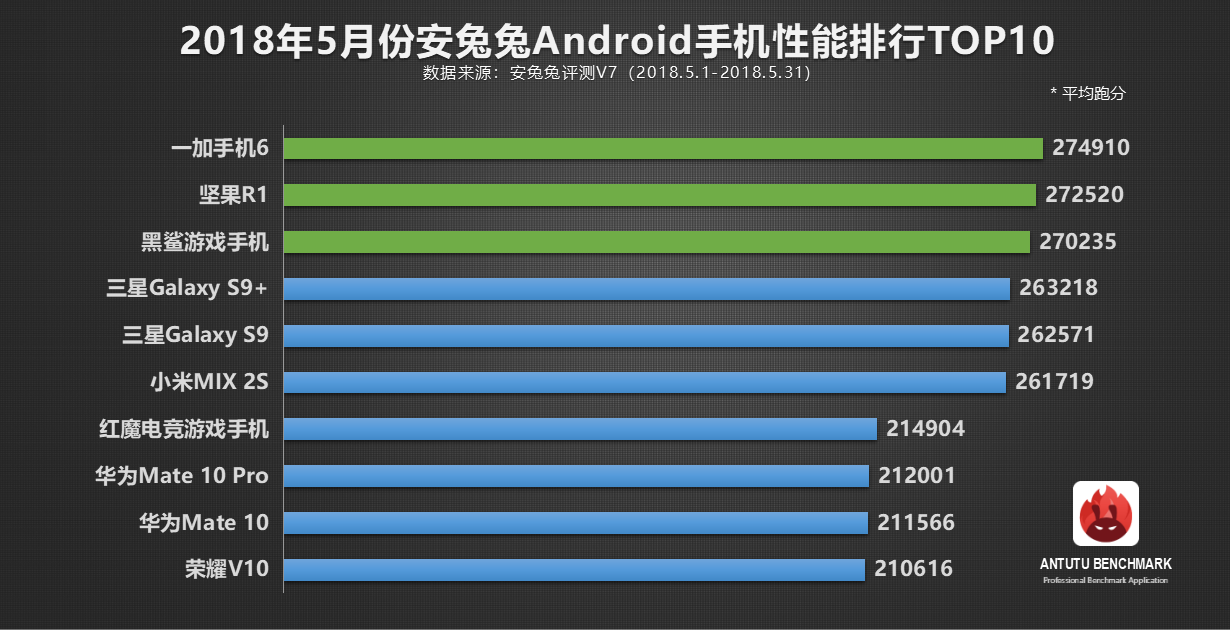 The Huawei Mate 10 Pro with a score of 212,001 and Mate 10 with a score of 211,566 are respectively placed at eighth and ninth positions. The Honor V10 that recorded 210,616 points sits on the last position on the list. These three phones are powered by the Kirin 970 chipset. There is no confirmation on why the list does not include the Kirin 970 powered Huawei P20 and P20 Pro smartphones that were launched in March this year.
Read More: Nubia Z18 Scores High On AnTuTu Thanks To Snapdragon 845 and 8GB of RAM
The Xiaomi Mi 8 was also launched in the previous month. Since it has been made available for buying starting from this month, it is not present in the above list. During the launch of Mi 8, Xiaomi had claimed that it is the first smartphone ever to breach the 300,000 mark on AnTuTu. Hence, it seems that the top 10 list of best performing phones for June 2018 will surely have the Mi 8 ranking among the top 3 phones.