Vivo NEX Specs Leaked Once Again; Including Details of the Nex A
We really have had enough of leaks already about the Vivo NEX and would prefer to finally meet the device. That would happen in a couple of hours time as the NEX models will go official on June 12. Ahead of that, we have sotted another leaked details of the NEX.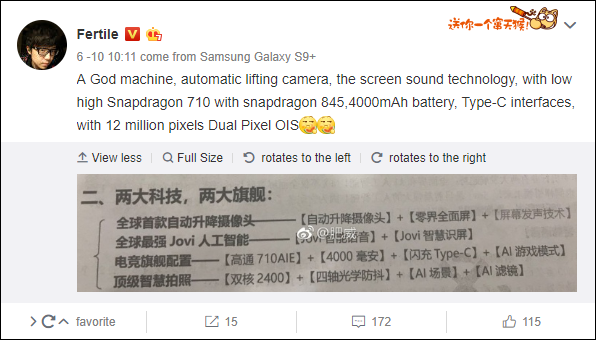 Previous leaks about the Vivo NEX had shown that there will be a NEX, NEX S and NEX A model but the specs of the NEX A has been elusive. In this case, the key specs of all three models are listed. This new leak indicates that NEX A and NEX S are both Snapdragon 710-powered variants while the Vivo NEX is the Snapdragon 845 flagship model. All three models will come with a full-screen bezel-less design which is one of the major highlights of the NEX models. The screen ratio is said to go p 95%. There is also a pop-up camera on all models, a feature that is already confirmed.

Read Also: Vivo NEX: Pricing For The Snapdragon 845 & SD 710 Versions (NEX & NEX S) Leaked
The leaked specs sheet shows the models will come with a 4000mAh battery and the charging interface is a USB Type-C interface. This could be the first Vivo model to come with Type-C since the Vivo APEX is yet to go official, that is if it will ever be commercialized. There are rumours that the NEX is the commercial version of the APEX but Vivo is yet to confirm that. The phones are also expected to come with Vivo's JOVI AI technology. The cameras will also have AI capabilities and this includes the dual rear cameras. The Vivo NEX will redefine bezel-less concept with its design and we just can't wait to see if its design is exactly as we have seen in leaks and official renders.