Recent reports have claimed that Sony is working on Xperia XZ3 flagship phone. It is speculated that the Japanese tech giant may announce it at the upcoming IFA 2018 tech expo in Berlin, Germany. Fresh information also reveals that the company is also working on a successor for the Xperia XZ2 Premium that was made official in April.
The alleged Sony Xperia XZ3 was spotted on GFXBench with a model number of H8416. A new model number of H8616 has appeared on what appears to be the UAProf from Sony's website. The listing reveals that the handset supports a resolution of 3840 x 1920 pixels which means it supports an aspect ratio of 18:9.
The resolution of H8616 does not match with the 4K resolution of 4320 x 2160 pixels that is available on Xperia XZ2 Premium smartphone. Another thing that has been found about the new H8616 smartphone is that it is loaded with the upcoming Android 9.0.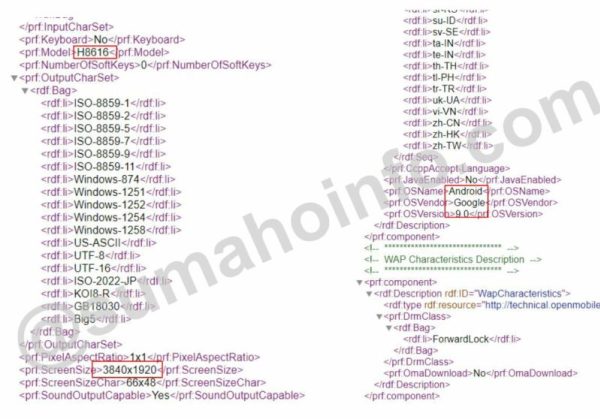 There is no information available on the other specifications of the H8616 smartphone. However, it may come with features like Snapdragon 845, 6 GB of RAM, 128 GB of storage, 19-megapixel + 12-megapixel Motion Eye dual camera and 13-megapixel frontal shooter that are expected to arrive on Xperia XZ3.
Read More: Sony Xperia XZ3 Leaked Hands-On Photos Reveal Design and Dual Cameras
As of this writing, there is no confirmation on whether the Sony H8616 smartphone will be arriving in the market as Xperia XZ3 Premium. There is a possibility that it may debut with some other moniker since its screen resolution does not coincide with that of Xperia XZ2 Premium.
At the upcoming IFA 2018 event, the Japanese firm may introduce the rumored Xperia XZ3 and XZ3 Compact smartphones. The launch of the rumored Xperia XZ3 Premium could be set in November.