Samsung Introduces ISOCELL Plus Technology To Improve Photos In Low-Light Conditions
by Michele Ingelido ago0
Low light-condition has always been the weakest points in smartphone photography. It has always been very hard to shoot good photos when there is not much light as the noise starts appearing and the details decrease drastically. Samsung is one of the few smartphone manufacturers who has been able to solve this problem and it is still doing it. The company has just unveiled a new technology called ISOCELL Plus which is able to improve low-light photography even more than before. Thanks to this technology, light isolation has been improved with a new material developed by Samsung in cooperation with Fujifilm.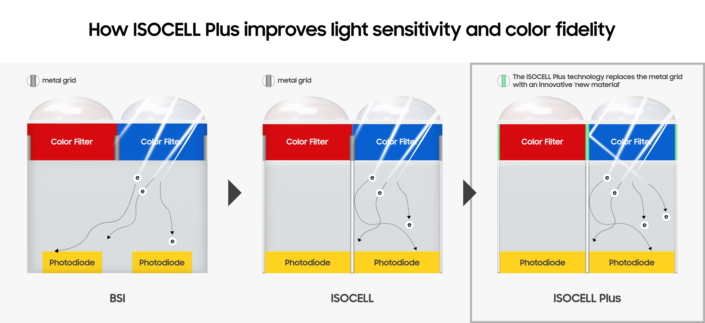 This new material will be used instead of the metal inside the sensors and it will increase light sensitivity by reducing light leaks. In detail, the next-gen sensors based on the ISOCELL Plus technology will be 15 percent more sensitive to light, even though the pixel size will remain the same. So, in order to achieve better results with low-light conditions, the company will not need larger sensors and the space occupied by them will not vary. The new technology will also improve the color accuracy and sharpness of mobile photos. A very smart and efficient solution which will let smartphones be closer to professional cameras.
RELATED: Samsung Sends Out Invitation For August 9 Galaxy Note 9 Launch Event
This is not the first innovative technology unveiled by Samsung this year. With the Galaxy S9 duo, the company has launched the first sensors for mobile devices to feature a variable aperture (it can switch from f/1.6 to f/2.4). Samsung will showcase the new ISOCELL Plus technology at MWCS 2018 (Mobile World Congress Shanghai 2018) in the upcoming days. The first phone to sport this technology should be either the Galaxy Note 9 coming in August or the Galaxy S10 line-up which will be unveiled in the first half of 2019 (most likely the S10 series).
(via)