Light Is Developing A Phone With 9 Cameras To Launch In 2018
by Michele Ingelido ago0
After LG and Huawei launched their first smartphones with dual cameras (Huawei P9 and LG G5),two camera setups became one of the main trends of the mobile devices sector. Back in March, Huawei unveiled the first smartphone with a triple camera setup and DxOMark said that smartphones with four cameras will soon become very common. Now, according to the latest news from Washington Post, Light is developing a smartphone with 9 cameras. In case you never head about Light: it is the brand which released the first computational camera with 16 sensors, called L16.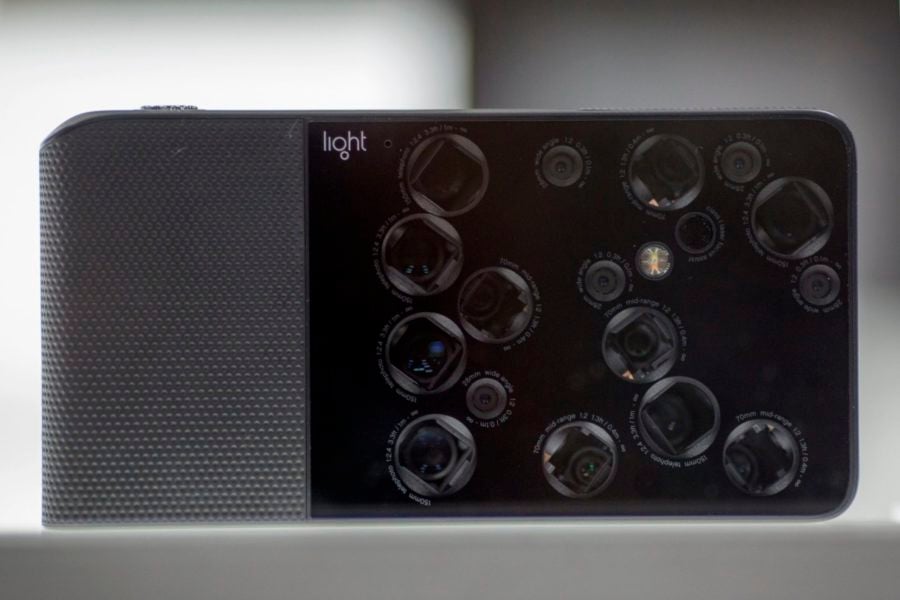 This camera is composed of sensors with different focal apertures which can be combined to shoot photos with resolutions up to 52 Megapixels. According to the manufacturer, its technology can make cameras shoot photos with resolutions of up to 64 MP. The multi-lens system is able to achieve good performance even with low-light conditions and it can apply depth effects thanks to several different sensors included. And these features are what we expect to see in the upcoming smartphone with 9 cameras. Light is currently developing the phone and it has also created a prototype with 5 to 9 lens with incredible zoom capabilities.
RELATED: Samsung To Copy Huawei P20 Pro With A Triple Camera On Galaxy S10+
Given its high number of sensors, this phone may feature the strongest optical zoom ever seen in the mobile phones market. The phone is supposed to arrive within the end of this year with Android, but it is unlikely that it will have an affordable price tag. The computational camera Light L16 is actually available with a price tag of $1950. Unfortunately, we do not know anything about the hardware side of the upcoming device, but we know that making 9 cameras work together would require a lot of processing power. So, it is likely that this device will be either a flagship phone or an upper-midrange handset.
(via)