OxygenOS Open Beta update for OnePlus 5 and 5T brings Project Treble support
OnePlus has today released its latest versions of the OxygenOS Open Beta for the OnePlus 5 and OnePlus 5T – version 13 for the 5 and version 11 for the 5T. While there latest update bring a few new features and optimizations, the biggest addition is the support for Project Treble.
Project Treble, which was announced ahead of Google I/O 2017, aims to modularize the Android operating system, making it easier for manufacturers to push updates to the software.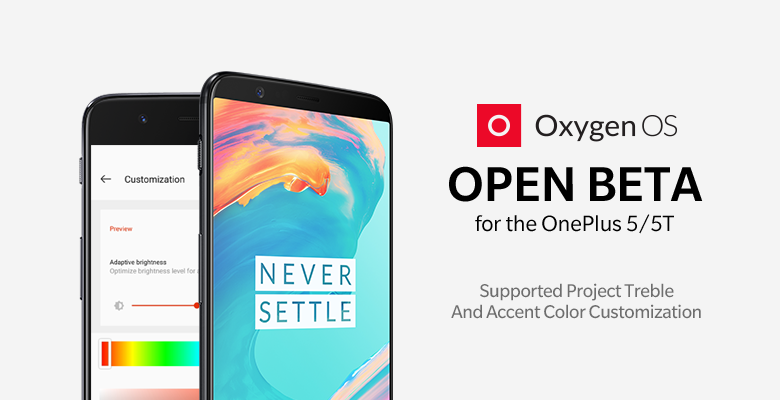 The newer version of Android update has been slow from some manufacturers. By separating the vendor HALs from the Android framework and providing a standard interface between the framework and HALs, Google has made it faster for device makers to bring up new versions of Android.
Project Treble support has played a big part to provide early access to the Android P Beta version to non-Google devices like the OnePlus 6, Xiaomi Mi Mix 2S, Sony Xperia XZ2, Nokia 7 Plus, among others.
In terms of other features and improvements in the latest OxygenOS build, it comes with improved launcher experience as the company has now added search tags in the app drawer, introduced a "new installs" category, and an improved app list.
In order to aviod data lose, OnePlus is advising users to flash earlier OxygenOS Open Beta (10 for OnePlus 5T and 12 for OnePlus 5) build before the new update. If you decide to update from the stable version of the system, you have to do a clean flash, clearing cache as well as data from the recovery.
Read More: Upcoming OnePlus 7 Could be One of the First Phones to Support 5G Connectivity
The OnePlus Open Beta builds are available for download from here. If you are already on the Open Beta build, then you'll will receive an OTA update and won't have to flash the zip file manually.
(Source)