Recently spotted fan-made renders of the Xiaomi Mi MIX 3 has revealed that it will be arriving with a pop-up selfie camera. This technology resembles the front camera of the Vivo NEX that remains hidden inside the top bezel. When the selfie camera feature is accessed in the camera app, the frontal shooter rises to snap a photo. A leaked image showcasing the design of the alleged Mi MIX 3 has been spotted on Weibo. The image suggests that the handset is equipped with a pop-up front camera.
The original Mi MIX from 2016 was a concept phone with bezel-less design that came with a massive 6.4-inch IPS LCD display. It offers nearly 84 percent screen-to-body ratio. After the launch of Mi MIX, various smartphone manufacturers were inspired to launch phones with similar bezel-less design.
The Mi MIX 2 from last year came with a smaller 5.99-inch display with a screen-to-body ratio of 80.8 percent. The Mi MIX 2S that was unveiled earlier this year offers 82 percent screen-to-body ratio through its 5.99-inch display. Competitor brands like Oppo and Vivo have launched flagship smartphones with higher screen-to-body ratio. The Vivo NEX and OPPO Find X respectively offer 86 percent and 87 percent screen-to-body ratio.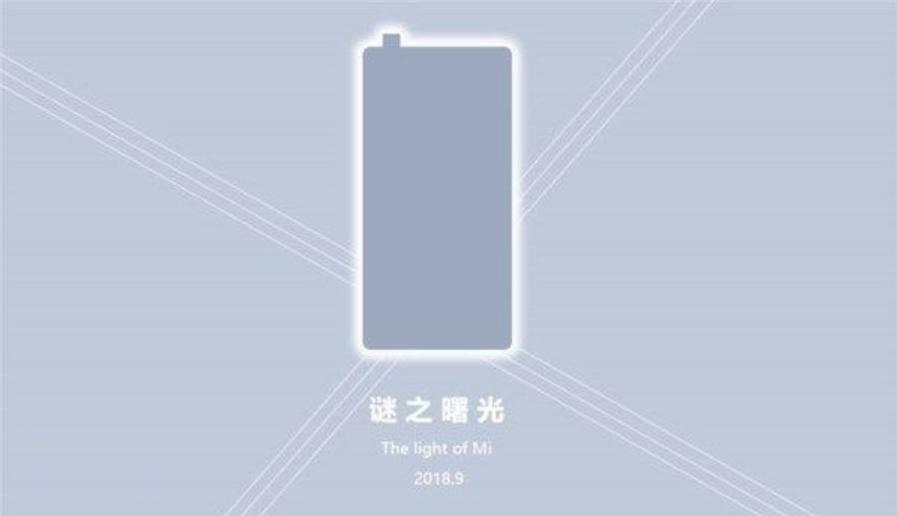 Since the original Mi MIX smartphone popularized the bezel-less design, Xiaomi may want to offer higher screen-to-body ratio on the upcoming Mi MIX 3 compared to the predecessor models. The Mi MIX and Mi MIX 2 have featured slimmer bezels. However, the bottom bezels on these phones have been slightly as they accommodate the front-facing camera. One way through which Xiaomi can offer a higher screen space on Mi MIX 3 is by cutting down on the space taken by the bottom bezel. To achieve it, the handset may require a pop-up camera like the Vivo NEX. The above image that seems to be teasing the design of the alleged Mi MIX 3 clearly shows that it has a pop-up front camera.
Read More: Several Xiaomi Redmi phones to get MIUI 10 in July
In 2015, Xiaomi had filed a patent for a smartphone design with a pop-up from camera. The camera unit also included an LED flash unit. Hence, there is a possibility that the Mi MIX 3's pop-up camera may also arrive with an LED flash.
The poster also reveals that the smartphone will be debuting in September. The Chinese manufacturer had launched the Mi MIX 2 in September which suggests that the arrival of the Mi MIX 3 could be around two months away.