Apple iPhone 8 grabs Top spot in Bestselling smartphones in May 2018: Report
In April this year, Samsung grabbed the top spot in terms of smartphone sales figures globally. But now, according to the latest report, Apple has regained the pole position with its recent offering, Apple iPhone 8 being the global top selling smartphone for the month of May 2018.
However, there is no huge difference between the sales figure of iPhone 8 and Samsung Galaxy S9 Plus, which grabbed the second spot with thin margin. But the data suggests a big jump for the iPhone 8 given that the phone was at fifth position in April 2018.
While the iPhone 8 and Galaxy S9 Plus are placed first and second, respectively, the iPhone X from Apple stayed at the third spot, grabbing around 2.3 percent market share. Another big change is the Samsung Galaxy S9, which went down from second spot in April to sixth spot in May with 2.1 percent market share.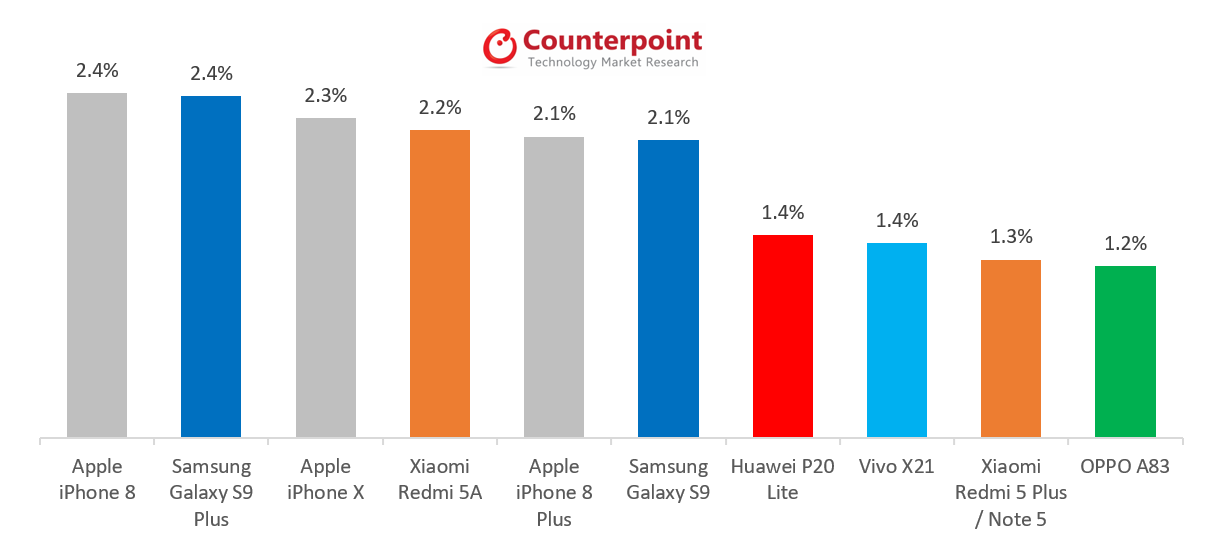 According to the report, Apple managed to regain the top spot in the global bestselling smartphone list because of the strong promotions running up to the football World Cup, accelerating sales in Europe. However, Samsung registered a slightly weak month-over-month sales in Europe.
In the fourth spot, there's Xiaomi Redmi 5A with 2.2 percent market share and iPhone 8 Plus is at fifth place with 2.1 percent market place. The list also includes Huawei P20 Lite, Vivo X21, Xiaomi Redmi 5 Plus/Redmi Note 5 and Oppo A83 at seventh, eigth, ninth, and tenth position, respectively.
The report says that Xiaomi gained momentum in its home market and also continues its good performance in India. It has good penetration in the mid-to-affordable premium market in China. It is also expanding its presence in India, focusing on offline lines, which increased from 30% in April to 35% in May 2018 in India.
Read More: China-based Xiaomi's smartphones to hit the U.S. markets next year
For Huawei, which keeps on growing in its home market and India, saw good performance from P20/Lite series. Huawei's P20 series combined share (2.6%) was amongst the top sellers, but only the P20 Lite breaks into the Top 10 list.
(Source)