WhatsApp vulnerabilities that can help scammers spread fake news discovered
Researchers at the research firm, Check Point have discovered a vulnerability in the popular messaging app WhatsApp could be exploited or manipulated by attackers to steer potential evidence in their favor and even spread misinformation. The vulnerability allows the attacker to intercept and manipulate messages sent by those in a group or private conversation.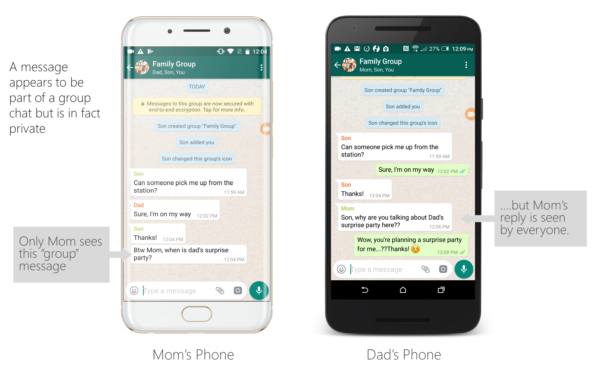 The research firm demonstrated three possible ways the vulnerability can be exploited and one of them is by changing a reply from someone to put words into their mouth that they did not say. Another way is by quoting a message in a reply to a group conversation to make it appear as if it came from a person who is not even part of the group. Thirdly, by sending a message to a member of a group that pretends to be a group message but is in fact only sent to this member. However, the member's response will be sent to the entire group.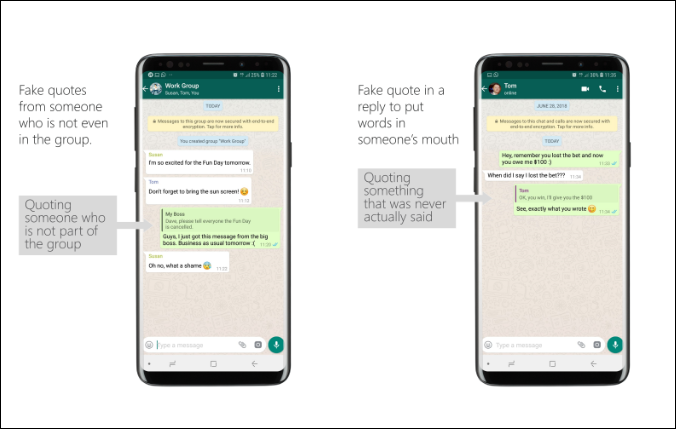 The firm gave some visual illustration of how the attacks could play out in real life. With an active user base of about 1.5 billion as at early 2018, WhatsApp is a steady target of hackers who see the app as a verile ground to launch potential scams. If an hacker can manipulate the message of an influencial individual, such message could go viral if twisted in an attractive or surprising way. The app has been used in the past to send fake rumours and misinformations that have led to the killing of innocent persons, like the spate of lynching and murders of innocent victims witness in India. It was also used in spreading rumours about the dangers of receiving a yellow fever vaccine in Brazil in 2016, leading to  an epidemic that infected 1500 people and killed almost 500.
Read Also: AnTuTu's top 10 best performance phones for July is led by Black Shark with nearly 300,000 score
Since the app is used for sensitive conversations ranging from confidential corporate and government information, to criminal intelligence that could be used in a court of law, it is important that the vulnerability be taken care of. WhatsApp is yet to issue any statement about the issue but users can prevent being used as tools for spreading misinformation by verifying news before sharing. It is recommended to cross check what you see on social media with a quick online search to see what others may be saying about the same story. Or even better, do not rely on social media websites at all for most of your news.
(source)