The Meizu 16 duo is finally official and one of the best ways to understand if it is worth buying one of these devices is comparing them with the best flagships out there. Given that the Meizu 16 has been launched in China with an aggressive price tag, we will compare it with one of the most wanted "affordable" flagships from the market today: the OnePlus 6. Is the Meizu 16 the king of Chinese flagships or is it still far from competing with this global best-seller? This is a Meizu 16 vs OnePlus 6 specs comparison where we try to figure things out.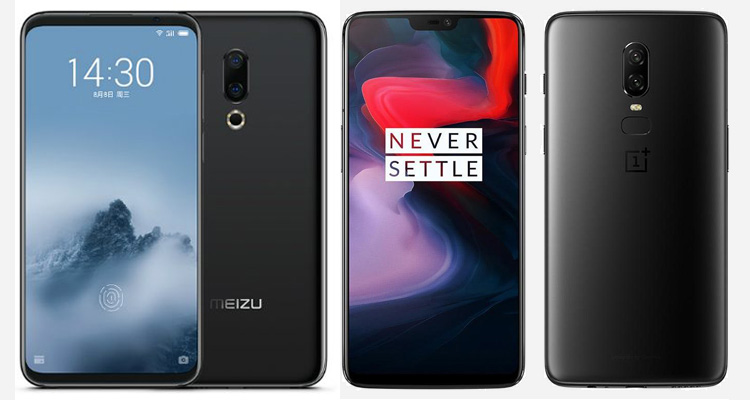 Meizu 16 vs OnePlus 6
Meizu 16
OnePlus 6
DIMENSIONS AND WEIGHT
150.5 × 73.2 × 7.3 mm,

152 grams

155.7 x 75.4 x 7.8 mm,

177 grams

DISPLAY
6 inches, 1080 x 2160p (Full HD+), 402 ppi, 18:9 ratio, Super AMOLED
6.28 inches, 1080 x 2280p (Full HD+), 402 ppi, 19:9 ratio, Optic AMOLED
PROCESSOR
Qualcomm Snapdragon 845, octa-core 2.8 GHz
Qualcomm Snapdragon 845, octa-core 2.8 GHz
MEMORY
6 GB RAM, 64 GB – 8 GB RAM, 64 GB – 8 GB RAM, 128 GB
6 GB RAM, 64 GB – 8 GB RAM, 128 GB – 8 GB RAM, 256 GB
SOFTWARE
Android 8 Oreo, Flyme 7
Android 8.1 Oreo, OxygenOS 5.1.9
CONNECTIVITY
Wi-Fi 802.11 b/g/n/ac, Bluetooth 4.2, GPS
Wi-Fi 802.11 a/b/g/n/ac, Bluetooth 5.0, GPS
CAMERA
Dual 12 MP + 20 MP f/1.8
20 MP f/2.0 front camera
Dual 16 + 20 MP f/1.7
16 MP f/2.0 front camera
BATTERY
3010 mAh
Fast charging 24W mCharge 4.0
3300 mAh
ADDITIONAL FEATURES
Dual SIM slot
Dual SIM slot
Meizu 16 vs OnePlus 6: Design
Despite the absence of a notch, Meizu 16 is still a very compact device with extremely thin bezels (hands on). Indeed, it is even smaller than the OP6 which is equipped with a notch. Further, it has an impressive design thanks to its ceramic-like glass back. When it comes to aesthetics, I would personally pick the Meizu 16 due to its originality, as the company has managed to release an outstanding device even though it has not followed the notch bandwagon.
Display
The display sizes are similar, with OnePlus 6 being a bit taller due to its notch. Both feature a Super AMOLED panel and a Full HD+ resolution, and there are no noticeable differences in the viewing quality. Both are high-end panels but they can not compete with the ones of the top flagship phones as they lack QHD+ resolution and HDR compliance. However, you still make a great choice if you buy one of these devices for its display.
Meizu 16 vs OnePlus 6: Specs & Software
Both Meizu 16 and OnePlus 6 are equipped with the most powerful Qualcomm SoC in the market: the octa-core Snapdragon 845 which reaches a max clock frequency of 2.8 GHz. And both come with 6 or 8 GB of RAM depending on the variant. So, even from the performance point of view, they are very similar. Note that Meizu 16 is the only one to feature a liquid cooling system, so it should provide better gaming performance in long gaming sessions.
Also, for software Meizu's Flyme OS isn't as popular as OP's OxygenOS. Further, OP6 is confirmed to receive Android Pie update very soon (by fall 2018) whereas we are not sure when Meizu will update its flagship to the new Android OS.
Meizu 16 vs OnePlus 6: Camera
Without testing the Meizu 16 (it has just been announced), we can not give a definitive verdict about cameras. But on the paper, OnePlus 6 seems to be better, except for the fact that it does not feature a laser autofocus mechanism, unlike its opponent. OP6 has a brighter aperture (on both sensors) and a very efficient OIS even in 4K videos. We doubt that Meizu 16 will reach the same level in every environment.
Battery
OnePlus 6 has a bigger battery. So, even on the battery life side, it should be a better handset. It should last for an entire day without issues if you don't stress it too much. We do not believe that Meizu 16 will have a disappointing battery life, but it is unlikely that it will reach its opponent's level due to its 300 mAh less capacity.
Meizu 16 vs OnePlus 6: Price
OnePlus 6 wins in most categories above even though the Meizu 16 may look more innovative with its design and in-display fingerprint reader. But Meizu 16 has a more affordable price, at least in China (as for now it is China exclusive). You can get the Meizu 16 for just $395 in China, while OP6 started from $500. With the actual prices, Meizu 16 definitely has a better value for money.
So which one would you pick? Meanwhile you can check out our initial hands on and impressions from here!
Meizu 16 vs OnePlus 6: PROs and CONS
Meizu 16
PROs
Powerful hardware
Good cameras
Attractive design
In-display fingerprint reader
CONS
OnePlus 6
PROs
Great hardware
Very good cameras
Bigger battery
Wider availability
CONS