OPPO R17 Geekbench listing reaffirms similarity between SD710 and SD670
A smartphone suspected to be OPPO's latest R17 smartphone has been spotted on GeekBench. The device comes with the model number OPPO PBEM00 but is suspected to be the OPPO R17. Just as announced yesterday at the launch event, the GeekBench model has 8GB of RAM. However, the device is listed as having a Snapdragon 710 chipset onboard instead of the Snapdragon 670 announced during the launch.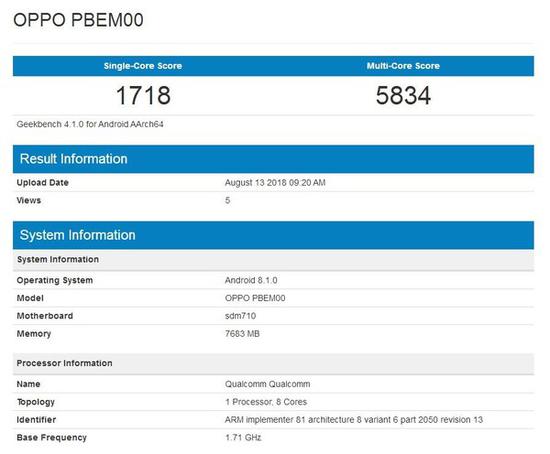 Tere are two possible explanations for this confusing listing. The first and most likely explanation is the similarity between SDM710 and SDM670. Snapdragon 670 was announced recently with the same configuration as the Snapdragon 710 but with a different clock frequency. Twitter tipster Roland Quandt had alerted that the Geekbench listing shows the similarity between SDM710 and SDM670 chipset since the 670 is identified as 710. However, a look at the Snapdragon 670 Geekbench performance shows a similar score of 1863 points on the single core test and a multi-core score of 5,256 points. The OPPO PBEM00 model was able to garner a 1718 single core test score and 5834 points on the multi-core test. This is also not so different from Snapdragon 710 GeekBench score.
Read Also: Snapdragon 710 Pops Up on GeekBench With Impressive Flagship-grade Score
The second likely explanation is that OPPO will launch a second model with the Snapdragon 710 chipset. The Chinese phone maker is also rumoured as having an R17 Pro model in the works. The R17 Pro is rumoured to pack three rear camera sensors with variable aperture. The model is also suspected to pack a Snapdragon 710 chipset onboard but this is just a speculation. The R17 Pro, if it ever will be released, could still utilise a Snapdragon 670 chipset.
(source)