Xiaomi retains leadership of India's smartphone market in Q2 2018 – IDC
Xiaomi maintained its position as the number one smartphone vendor in India, IDC reports. The report released by IDC India in its Quarterly Mobile Phone Tracker showed that smartphone companies shipped a total of 33.5 million units to consumers in India during the second quarter of 2018. This increased shipment represents a robust 20% year-over-year (YoY) growth.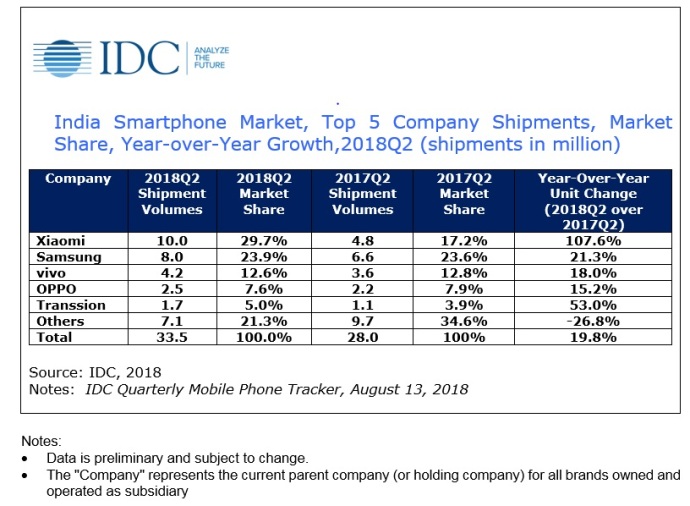 The report also contained the top 5 vendors in the second quarter of the year, with Xiaomi maintaining its lead in the market.  This is the fourth consecutive quarter that Xiaomi is emerging as the overall leader of the Indian smartphone market. The top 5 vendors made up 79% of the smarphone market and Xiaomi had a market share of 29.7% to emerge the overall leader with Samsung coming in at second place with a 23.9% share of the market. Vivo established a good performance to clinch the third spot with a 12.6% market share. The fourth spot is occupied by OPPO wit 7.6% share and Transsion, maker of Infinix, iTel and Techno smartphones completed the top 5 with a 5% share of the market.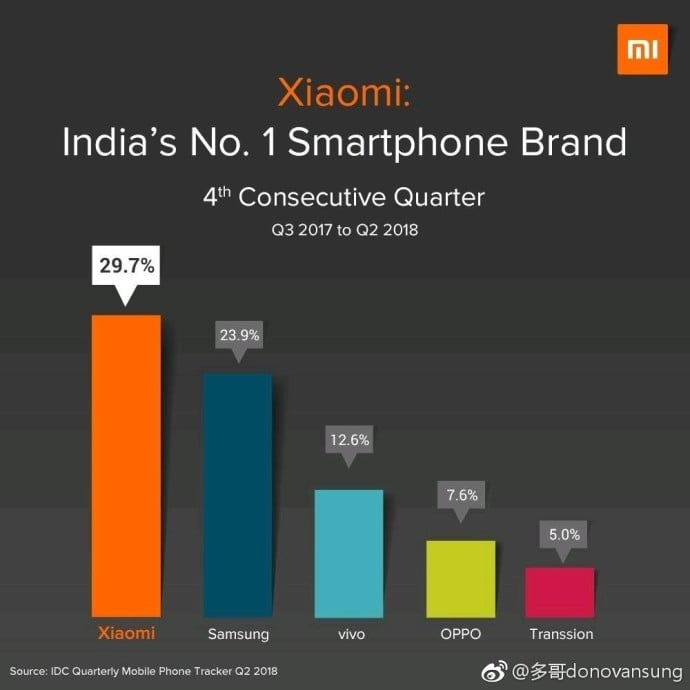 Read Also: Xiaomi Mi Pad 4 Plus is official with 10.1-inch display, 8,620mAh battery for 1,899 Yuan (~$275)
Xiaomi's shipments were mostly from online sales which accounted for more than 56% of its total shipments while 33% went through offline channels. Another point worthy of note is the performance of Huawei's Honor brand in the online segment. The Honor brand climbed up to the second position with an all-time high of 8% share in the online segment. Huawei is seen as a strong contender that could challenge Xiaomi and Samsung for the top spot. Samsung is also making strong efforts to ensure it climbs back into the number one spot which it had occupied until the third quarter of last year.
(source)