Live photos of a Moto G6 Plus (or Moto G6S Plus) with water-drop notch surface, drags along a Motorola One too
by Habeeb Onawole ago0
The Moto G6 Plus was unveiled back in May and one of the biggest changes Motorola (or Lenovo) made to the 6th generation Moto G phone is the switch to an 18:9 display. Today, live photos of another phone also said to be the Moto G6 Plus surfaced online and it is entirely different from the Moto G6 Plus currently sold in the market.
Moto G6 Plus???
The photos show the phone does have reduced bezels to accommodate a taller screen. However, the screen has a notch and this is not the type of notch on the Motorola P30 but the water-drop notch of the OPPO F9 Pro.
The device is powered up and the "About phone" section states the device's name as the "moto g(6) plus". It also reveals it has dual SIM support. But that's not all. At the bottom of the screen, the model and hardware name says " moto g4".
A second photo shows the back of the phone. It has a nice-looking reflective red finish. We want to believe it is glass. There are also dual cameras with a black band around them. The entire camera setup maintains a similar circular and raised design as Motorola's current offerings. However, this Moto G6 Plus has its fingerprint scanner under the batwing logo like that of the Motorola P30.
Probably Moto G6S Plus
While the About Phone section does say it is the Moto G6 Plus, we believe this might be the Moto G6S Plus, a refresh of the Moto G6 Plus and a successor to last year's Moto G5S Plus.
According to the source, the phone has two variants. There is one with 4GB of RAM and 32GB of storage and another one with 6GB of RAM and 64GB of storage. It packs a 3,200mAh battery and a Snapdragon 630 processor.
We are not surprised the battery and the processor are the same as that of the Moto G6 Plus. Motorola did the same thing with the Moto G5 Plus and Moto G5S Plus. They changed the design of the phone but kept the processor and battery capacity. Though they did upgrade the cameras.
Only time will tell if this is the Moto G6S Plus or a different device entirely.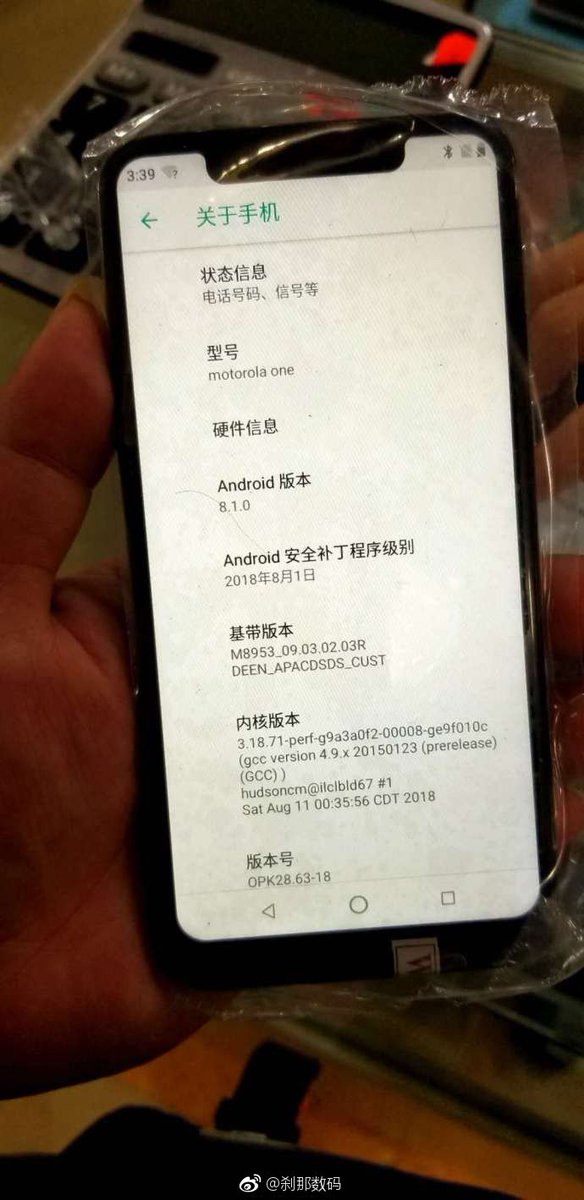 Motorola One
The  Moto G6 Plus wasn't the only phone whose live photo leaked. A photo of a second phone called the "Motorola One" was also posted by the source. The Motorola One has a notch, and it is a wide one like that of the P30.
READ MORE: Motorola One Power press renders, specifications leaked; Launch seems imminent
The About Phone section is also visible and it reveals the phone is running Android 8.1 Oreo with August 2018′ security patch. We want to believe this is the international variant of the Motorola P30, so there is nothing much to talk about.
Hopefully, more info about the launch of both devices will surface soon.