Sadly, faking samples to promote smartphones seems to be becoming a normal marketing strategy. After Huawei posted camera samples taken from a DSLR  pretending them to be shot from the Nova 3i, and after various Chinese smartphone were caught cheating on benchmarks, now even Xiaomi is trying to promote its latest flagship by posting fake photos. The company's top exec Donovan Sung posted a new camera sample on Instagram to promote the  Poco F1. But some Reddit users immediately discovered that this camera sample is far from being new and it wasn't  taken from Xiaomi Poco F1's dual cameras.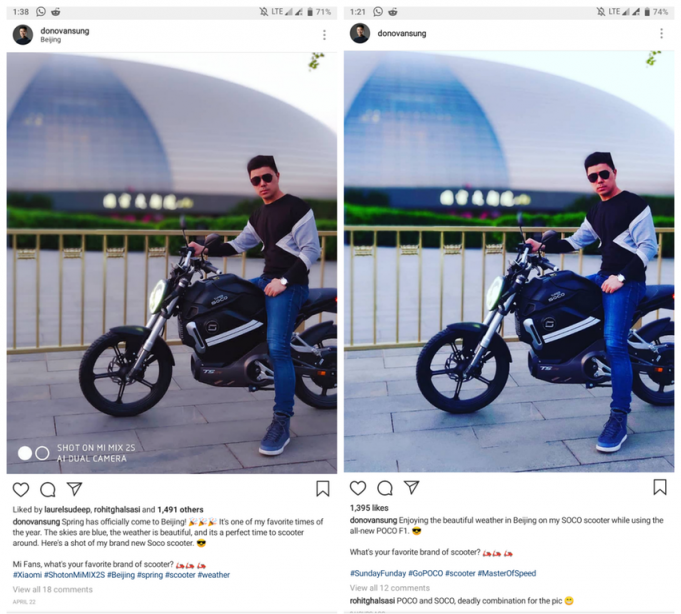 Indeed, Donovan Sung had already posted this photo in April to promote the Xiaomi Mi Mix 2S, and it also contained the watermark highlighting that it has been shot on Mi Mix 2S AI dual camera. He canceled the watermark, filtered the photo, then reposted it on Instagram saying that it has been taken from the new Poco F1. This was probably done because, in order to guarantee a very affordable price while keeping a flagship hardware side, the company decided to equip the handset with inferior cameras compared with other Mi flagships.
Indeed, while the primary sensor is borrowed from the Mi 8 (the primary sensor has a 12 MP resolution and a f/1.9 aperture), the secondary one is a cheap 5 MP lens with f/2.0 and it is used for capturing depth information. On the other hand, there is to consider that this is the most affordable device with a Snapdragon 845 chipset inside, which is the best Qualcomm SoC at the moment. It is especially thought for gamers and for the most advanced users, even though it comes with a cheap polycarbonate design to cut costs.
(via)