AnTuTu Top value for money smartphones by price segment
AnTuTu is best known for its benchmark app which is a good reference point for the performance of smartphones especially based on their processor power. The outfit equally evaluates the price points of the top selling phones based on their prices and AnTuTu score to give a ranking of the most value for money models in the various pricing categories. Here is the ranking for the month of August 2018 and the price used in the ranking is that with which the models are sold in China.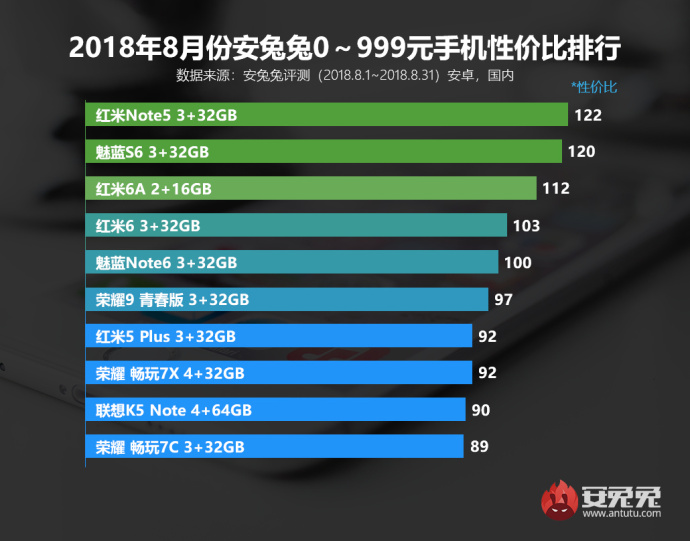 In the under 1000 yuan price category (0-999 yuan) the Xiaomi Redmi Note 5 3GB + 32GB version offers the best value for your money. The model was launched in March this year with a starting price of 1,099 Yuan (~$171) for the 3GB + 32GB version. The model had its price slashed by 100 yuan and now sells for 999 yuan. Even outside China, third-party retailers sell the model for around 169.99 which is pretty cheap for a Snapdragon 636-powered phablet. The Meizu M6s 3GB+32Gb version follows at the second spot while Xiaomi's budget Redmi 6A comes in at the third spot.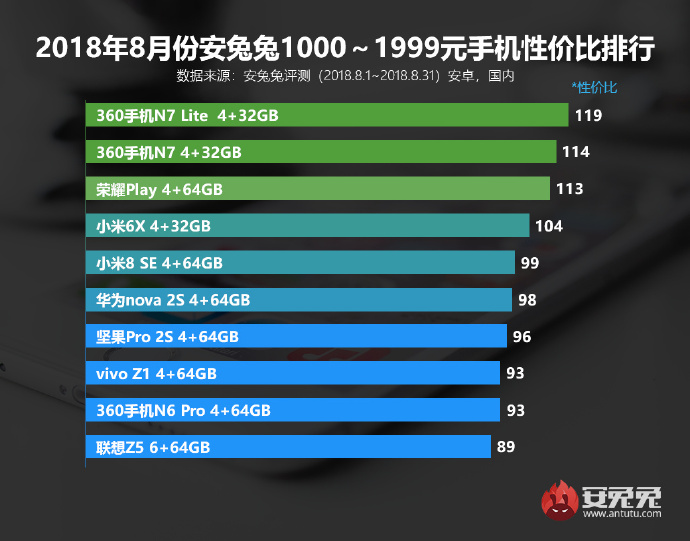 For the 1000-1999 yuan pricing category, 360 Mobiles known for its premium but affordable models occupy the top 2 spots with the 360 N7 Lite 4GB+32GB version at the top spot and the 360 N7 4GB+32GB on the second position. Huawei's Honor Play (4GB+64GB) is another value for money phone which has equally got lots of positive reviews. The list also contains the Xiaomi Mi 6X (4GB+32GB) or Mi A2 if you like. The Snapdragon 710-powered Mi 8 SE follows as well as the Nova 2s, Smartisan Nut Pro 2s, Vivo Z1, 360 N6 Pro and Lenovo Z5.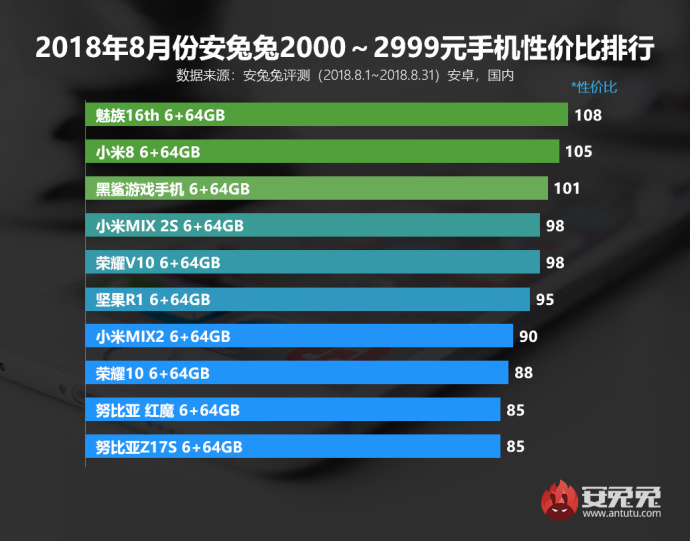 The next category in the AnTuTu best value for money ranking is 2000-2999 yuan price category which comprises of flagship models. Top of the pack is the Meizu 16th 6GB+64GB version with 108 points which is not a surprise. This is closely followed by the Mi 8 (6+64GB) with 105 points and on the third spot is Xiaomi's Black Shark gaming phone (6+64GB). Other smartphones that offer value for money include the Mi Mx 2s, Honor V10, Mi Mix 2, Smartisan R1, Honor 10, Nubia Red Magic and Z17s.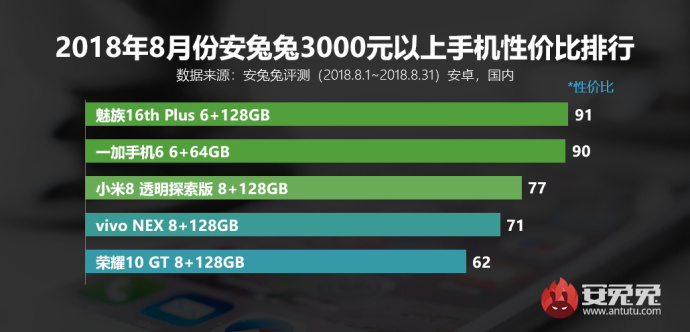 Read Also: Xiaomi Redmi Note 5 Pro Red Edition launched in India
For models priced above 3000 yuan, the Meizu 16th Plus (6GB+128GB) offers buyers optimum value for their money based on its configuration. OnePlus 6 (6GB+64GB) version and Xiaomi Mi 8 Explorer Edition 8GB+128GB are also great value for money models. Vivo NEX and Honor 10 GT completes the top 5.
(source)