Get Big Discounts On The A5X Max And Other Well-Received TV Boxes On GeekBuying
by Vinay Patel ago0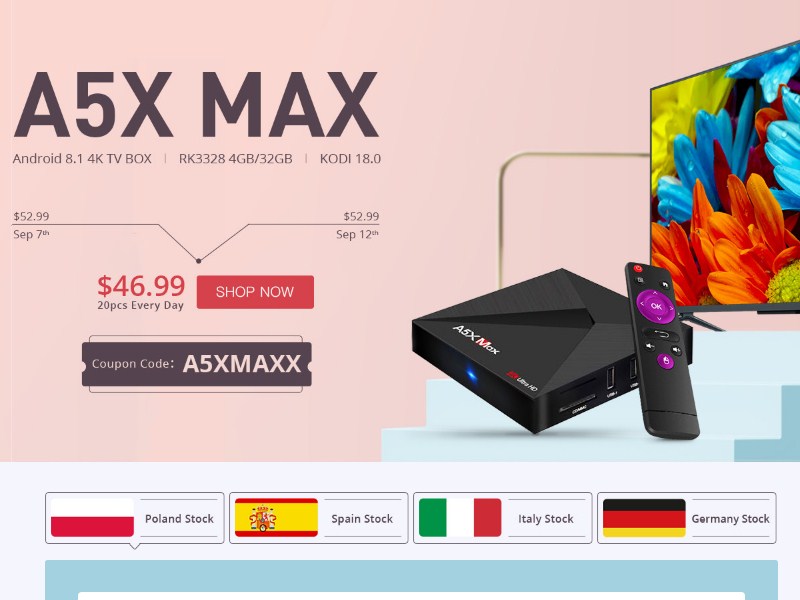 If you're in the market for an RK3328 SoC-equipped Android TV box, you've come to the right place. We'll shed light on an unmissable deal that you can avail on the A5X Max 4K TV Box on GeekBuying.
Moreover, we'll show how you can avail additional discounts on a wide selection of other high-end TV boxes that are currently available bearing discounted prices on GeekBuying. The TV boxes have been split into multiple categories including Poland Stock, Spain Stock, Italy Stock, and Germany Stock.
The above-mentioned section comes with specifically assigned coupon codes that you can use to save a extra money at the time of checking out. For instance, under the Poland Stock section, you can use a $5 off coupon if your grand total exceeds $100 and $2 off coupon if you spend more than $45.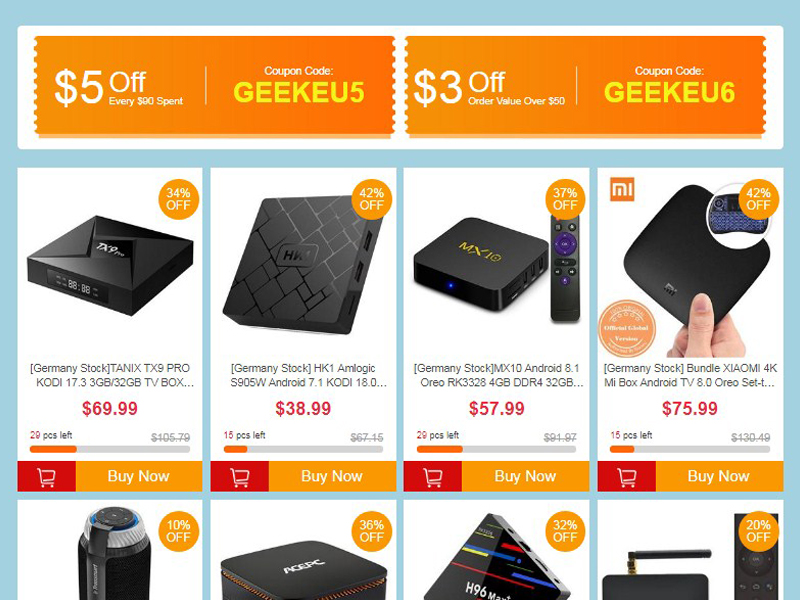 Similarly, you can avail an extra $5 off coupon for over $80 and $4 off coupon when your order value is more than $70, under the Spain Stock category. The Italy Stock section, on the other hand, features a $4 off coupon for every $70 spent and a $6 off discount coupon which will be valid for those who spend more than $90.
The Germany Stock segment is crammed with a slew of well-received TV boxes that are currently available at a considerably lowered price. On top of that, buyers who spend over $90 can use coupon code GEEKEU5 to save an extra $5 and those who spend above $50 can apply coupon code GEEKEU6 to get an extra $3 off.
It is worth noting that the above-mentioned discount on the A5X MAX TV Box will be valid for just 1 day. Only first 20 buyers daily will be able to take advantage of this discount, which you can check out by visiting the promotion page.
To get extra discounts on a slew of other TV boxes, follow this link without wasting time.
Get Big Discounts On High-End TV Boxes