OnePlus drops a cryptic teaser, also confirms OnePlus 6T will have in-display fingerprint scanner
by Habeeb Onawole ago0
OnePlus just released a teaser and honestly, we have no idea what it means. The five -second teaser is accompanied by a caption that reads "Incoming: Top Secret Message…".
Incoming: Top Secret Message… pic.twitter.com/84d9ymNBQW

— OnePlus (@oneplus) September 10, 2018
There are a bunch of guesses from the replies in the comments. Some say it is a morse code hinting at the OnePlus 6T and its in-display fingerprint scanner while others say it is a teaser for Android Pie. The same teaser was also shared by the official OnePlus USA Twitter account.
Teammate, Michele, has a guess. He thinks the teaser hints at the Android 9.0 Pie update for the OnePlus 6. There are 15 dots in total and only six blinks, leaving 9 dots unblinking. The 6 dots are said to represent the OnePlus 6 while the 9 unblinking dots denotes Android 9 Pie.
Whatever it may be, we will have to wait for OnePlus to release more info. What do you think it is? Let us know in the comment box.
In other news, OnePlus has confirmed that their next flagship, the OnePlus 6T will have an in-display fingerprint scanner. The phone company confirmed the info in an email sent to CNET.
We unlock our phones multiple times a day, and Screen Unlock reduces the number of steps to complete the action..
In the email, OnePlus revealed the new unlock method will be referred to as "Screen Unlock".
By adding this feature as an addition to other display unlocking options such as Face Unlock, users will have options to unlock the display in a way that is most efficient for them.
OnePlus also sent a picture of the OnePlus 6T's lockscreen which shows the fingerprint icon. The manufacturer even mentions that the OnePlus 5T was supposed to be the first OnePlus phone with an in-display fingerprint scanner but the tech wasn't ready yet. Hence, pushing it forward to debut on the OnePlus 6T.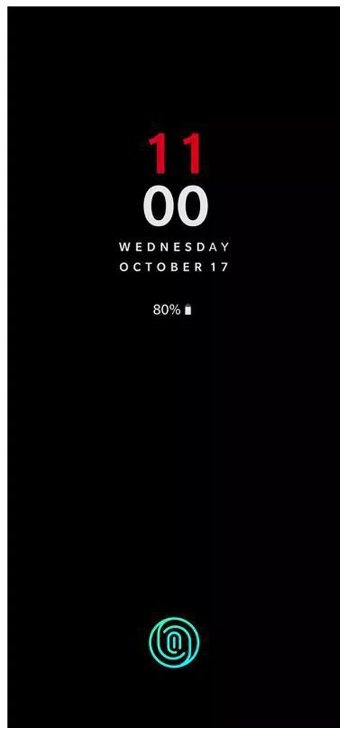 Nope, you are not the only one who thinks the date on the lockscreen is the OnePlus 6T's release date. The OnePlus 5T was announced in November, so an October launch is quite early. Nevertheless, you may want to add October 17 to your calendar.
READ MORE: Photos of OnePlus 6T' retail box show it has a water-drop notch and in-display fingerprint scanner
Pictures of the OnePlus 6T's retail box leaked last week and it revealed the phone will come with an in-display fingerprint scanner and have a water-drop notch. While OnePlus has confirmed the former, it has said nothing about the latter.