Huawei says Kirin 980 is superior than Apple A12 Bionic
by Simran Singh ago0
Huawei is on the verge of launching the new Huawei Mate 20 Pro with the all-new Kirin 980 processor. It is scheduled to launch at an event on the 12th of October in London. Well, before that Huawei has mentioned that it's Kirin 980 will be better than the Apple'12 Bionic Processor. Huawei Kirin 980 and Apple A12 Bionic are the only processors which are available on the 7nm process. Qualcomm will unveil its version of the 7nm processor, Snapdragon 855 by the end of this year.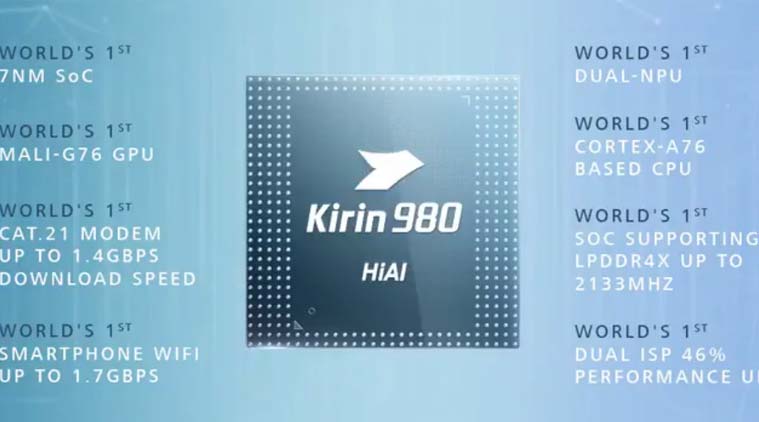 Huawei Kirin 980 is faster, intelligent and efficient than its predecessor, Kirin 970. After three years of hard-work, Huawei has developed the Kirin 980 featuring 6.9 billion transistors making it 75% faster than the Kirin 970. It is 57% more power efficient, 75% faster and gives 178% more performance than the Kirin 970 GPU. While Apple carriers the same number of transistors with excellent improvement in efficiency and performance.
It seems Huawei is quite serious this time as they have introduced industry's first SoC equipped with two neural processing units (NPUs) and its Dual-NPU setup. It will help Kirin 980 to handle AI tasks with greater affordability, allowing developers to bring richer AI experiences. It will carry dual ISP (image signal processor) for better image processing with the multiple camera sensors.
In connectivity, it supports LTE Category 21 promising the downlink of 1.4Gbps. Moreover, it carries the Hi1103 Wi-Fi module, proved to be the world's fastest WiFi chip supporting the download speed of 1.7GBPS. There's a dual dual-frequency (L1 and L5) GPS having well-defined precision.
Additionally, Kirin 980-can recognise 500 photos in just six seond. It can also identify multiple subjects in a video in real-time. Huawei will start testing the 4.5G networks in India using Kirin 980 very soon.
(Source)