OnePlus has already confirmed that the upcoming OnePlus 6T smartphone will not be featuring a 3.5mm audio jack. The handset will be arriving as an upgraded version of the OnePlus 6 which is the fastest selling OnePlus phone till date. The OnePlus 6T will be the first phone from the company to arrive with an in-display fingerprint scanner. At the same time, it will be the first OnePlus phone to lack a 3.5mm audio jack. Through its official Twitter account, OnePlus tried asking its fans what's their favorite feature of the OnePlus 6. Most replies revealed that the 3.5mm headphone jack is the best feature of OnePlus 6 while others criticized the company for the axing the feature from OnePlus 6T.
The question has met with interesting replies. Many have mocked OnePlus for its decision on asking such a question before the launch of the OnePlus 6T. Very few have claimed that other things like Dash Charge and affordable pricing are the best features of the OnePlus 6.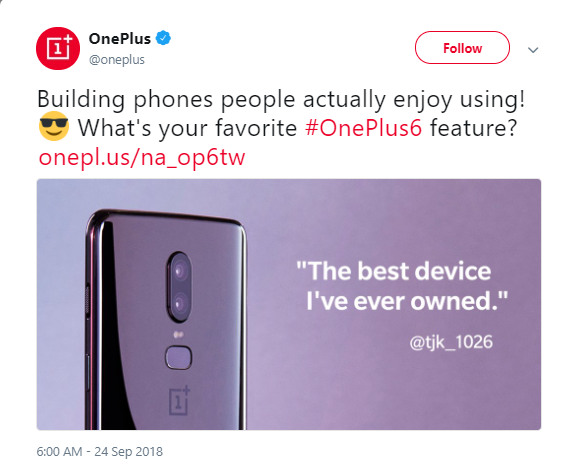 Many smartphone manufacturers have tried axing the 3.5mm headphone jack from their flagship phones in the recent past. OnePlus has also decided to walk the path. The upcoming OnePlus 6T will allow users to connect an earphone to its USB-C port. The company will be announcing Type C Bullets earphones alongside the OnePlus 6T smartphone.
Why are smartphone manufacturers removing 3.5mm headphone jack? The removal of the feature can allow manufactures to slim down the thickness of a smartphone by 1mm or 2mm. Its absence can create larger space inside the device for other components. Also, compared to sound output through 3.5mm headphone jack, the USB-C port can deliver better transmission and conversion of digital signals for superior audio experience.
There is no official confirmation on the launch date of the OnePlus 6T. It is expected to debut with Type C Bullets on Oct. 17.
Do you think that the removal of 3.5mm audio jack from OnePlus 6T is a good decision? Share us your thoughts by posting your comments below.
(source)