Flipkart's Big billion day deal for the Poco F1 hints at Pocophone F2's possible release in the next 6-8 months
Xiaomi stunned the smartphone industry when it launched the Pocophone F1 with flagship-grade specs but cheap pricing. This immediately drew some comparison with the OnePlus models which also affords buyers to lay their hands on flagship hardware at price tags that won't tear a hole in their pockets. Some might argue that the OnePlus 6 model is far superior to the Poco F1 but then, that is disputable. Xiaomi may just have tested the waters with the F1 as there are clues that the Chinese company may likely introduce the Pocophone F2 within the next 6-8 months.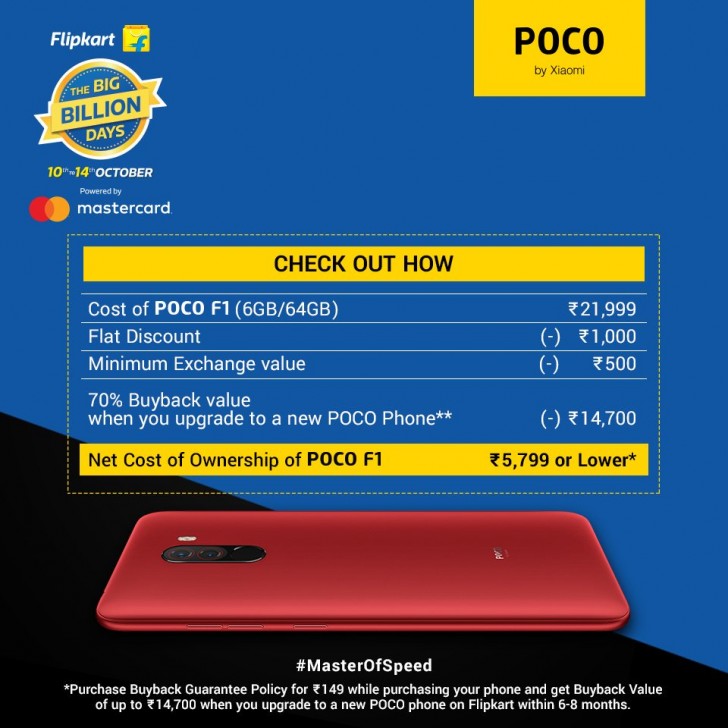 The clue is contained in a poster for Flipkart's Big Billion Days deal for the Poco F1. The entire package offers the device Rs 21,999 for the 6GB + 64GB variant. But there are other perks attached including a Rs 1000 yuan flat discount and Rs 500 off as minimum exchange value. Flipkart also placed a 70% Buyback value of Rs 14,700 on the F1 when the buyer upgrades to a new Poco phone within 6-8 months. This is the clue as it puts the net cost of owning the F1 at just Rs 5,800 ($78). There's a catch, though, as buyers will have to purchase Buyback Guarantee Policy for just Rs 149 while purchasing the phone.
Read Also: Confirmed: Pocophone F1 supports Quick Charge 4.0 and is splash resistant!
This deal offer doesn't categorically state the Pocophone F2 will drop within the next 6-8 months. But then, who swaps an old phone for a new one of the same model? So, for Flipkart to roll out this program now, it is strongly possible that Xiaomi will be releasing the Poco F2 in half a year's time. That would fall in the first half of 2019 which sounds just right. Xiaomi would wont to consolidate on the success of the F1 by releasing the F2 early next year. We can't say for sure what will change in the design and specs of this year;'s version. We might like get a redesigned body and perhaps, Qualcomm's latest 2019 chipset, Snapdragon 855.
(source)