Pre-Order Bakeey T2 Smart Watch Heart Rate Monitor For Just $32.99 On Banggood
by Vinay Patel ago0
Bakeey recently added a new sporty looking smartwatch dubbed the Bakeey T2 to its impressive line up of cost-effective wearables. Marketed as a smart sports business bracelet, the T2 has now gone up for pre-order carrying a dropped price on Banggood.
Before we shed more light on the discount, let us take a gander at what the T2 has to offer in terms of specs and features. Following in the footsteps of its well-received precursors, the T2 sports an easily-readable 1.3-inch high definition colorful IPS screen with 240×240 pixels resolution.
Featuring an ultra slim design, the smartwatch is housed in a Milanese stainless steel body. The band is made using high-quality silicone material and the wearer can choose between multiple colors for the strap. Its dimensions are 250mmx 36mm x 11mm and it weighs in at just 100g.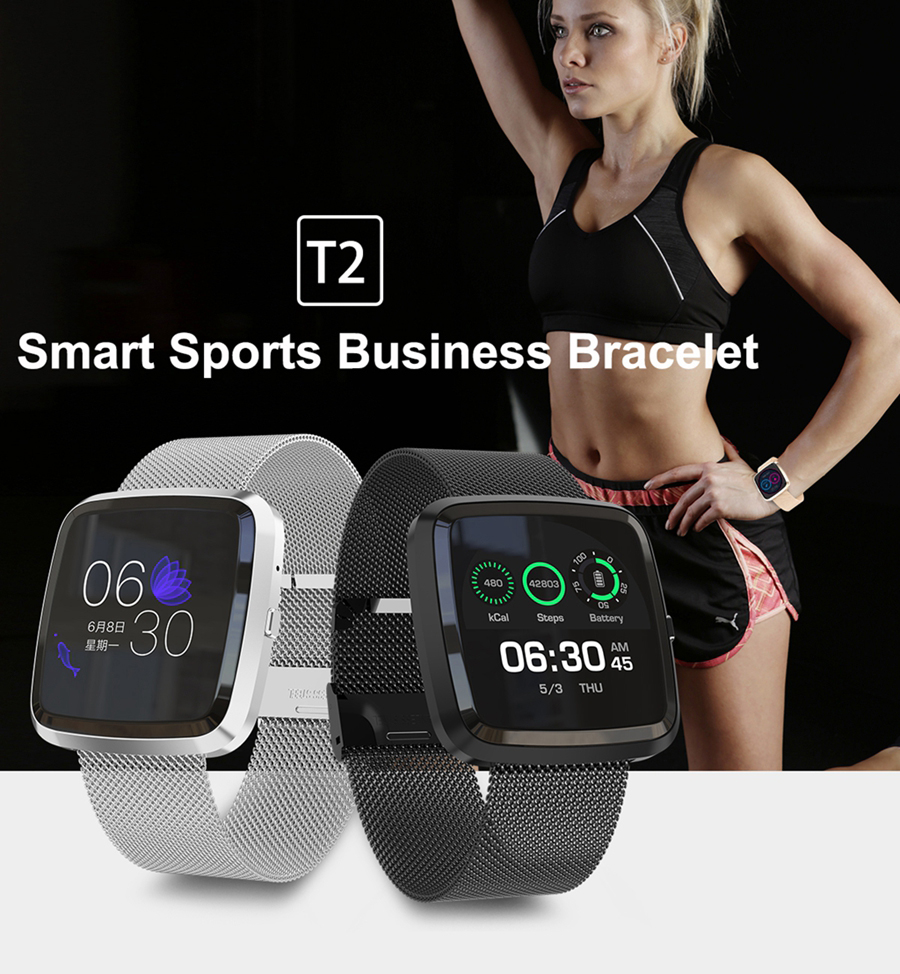 Moreover, the T2 is capable of continuously tracking your heart rate for 24 hours. It connects to the app that shows heart rate data reports along with health status analysis to give you a better understanding of your health.
Much to the relief of adventure junkies, the T2 smartwatch is IP68 certified so you can wear it while swimming, washing hands, during rain and other outdoor activities. Aside from that, it helps you monitor your healthy activities of sports with the help of an accurate pedometer, calories and distance counter.
The smartwatch has multiple sports modes that can accurately calculate various other activities including running, walking, riding, climbing, swimming, badminton, ping-pong, basketball, and football. The Bakeey T2 comes with a newfangled blood pressure monitoring method, wherein the wearer doesn't need to connect a mobile phone to check out the blood pressure, blood oxygen and other details.
The smartwatch can display incoming calls and support the one-click rejection. The T2 also supports a slew of third-party apps including Skype, Twitter, and Facebook.
This Bakeey-branded smartwatch is compatible with Android 4.4 or above, iOS 7.0 or above and is backed by a 200mAh battery that offers a standby time of 20 days. If the Bakeey T2 smartwatch heart rate monitor has grabbed your attention, it may interest you to know that you can now pre-order it for just $32.99 on Banggood.
Regrettably, this 34% reduction in the device's original selling price will only be valid for 10 pieces. The next 300 pieces will be up for grabs bearing a slightly steeper $36.99 price tag, while the remaining 1000 pieces will set you back $49.99.
If you're interested in taking advantage of the noteworthy discount, all you need to do is to follow this link without wasting time.
Get 34% Off On Bakeey T2 Smart Watch Heart Rate Monitor
Download Banggood App To Get A 10% Off App Coupon