Dual Screen Axon M can be purchased for less than half its cost, but will there be any takers?
by Simran Singh ago0
How many of you remember the ZTE Axon M, a dual screen experimental device? Well, despite some good specs and dual displays, it has not received good sales. In order to cash out or to increase sales, ZTE is offering over 65% discount off the original price of $725. Users can grab the Axon M at the price of $250 from Ebay in the US. In a similar discount, it is now available at the retail price of 1887 Yuan (~$272) at Jingdong Guanqi store.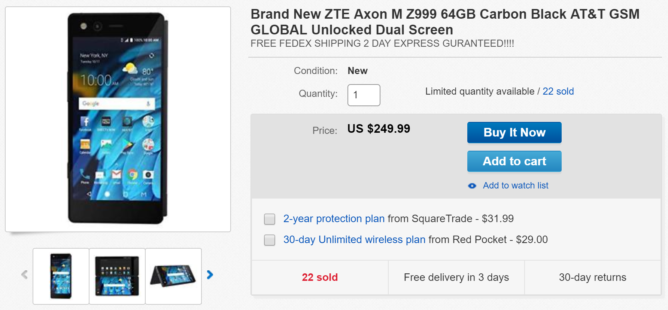 The recent price cut has made it a hot deal for users who want to experience dual screens at a reasonable price. Earlier, due to the high price of the device, people were reluctant to choose Axon M. Now, as the price has been reduced, we hope to see a good number of sales.
There might be different reasons behind the recent price slash, but majorly it can be to garner some sales or to clear its stocks before launching a successor. Well, whatever the reason is, we suggest the users who want to buy it should grab it immediately, as stocks might end soon.
Additionally, the dual display's each of 5.2 inches with 1080p resolution can combine to form a 6.75-inch 2160×1920 panel. ZTE Axon M is equipped with Qualcomm Snapdragon 821 SoC coupled with 4/6GB RAM having 64/128GB storage. In the camera department, it has a 20-megapixel camera, 3180 mAh battery with Quick Charge 3.0 fast charging.
In order to fully utilize the dual display functionality, ZTE has added four different modes in the device. It carries classic mode, large screen mode, split-screen mode, and mirror mode. The split screen mode is quite efficient and is also a significant selling point. You can open multiple apps at the same time without any interference.
It is one of the best deals that is available in the market. In the US, buyers can head over to ebay to get it for $250. While who are residing in China can grab it for 1887 Yuan (~$272) at its Jingdong Guanqi store with Plus membership.